Mediaite Study: Fox News Not Number One Cable Network In Covering 'Christmas'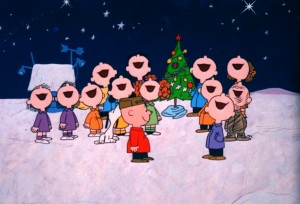 For the last few years, there's been a great hullabaloo made over the "War on Christmas" — basically, the belief that companies, networks, and other public entities have phased out "Christmas" and replaced it with "holidays." Fox News — led in the movement by Bill O'Reilly — has been a leader in the resistance of the movement on the opinion programming side, but we wanted to see if there were any other networks keeping "Christmas" in the lexicon, possibly in a more understated manner.
RELATED: Bill O'Reilly Does Epic Segment On The 'War On Christmas™'
Using TVEyes, a search engine and database service that monitors every word spoken on almost every major television and radio station, we tracked the mention of "Christmas" and "holidays" on eight cable networks, from 12:01 a.m. Dec. 1, until 4 p.m. today. The stations were: Fox News, CNN, HLN, MSNBC, ESPN, CSPAN, QVC, and HSN (formerly the Home Shopping Network).
Here's what we found:
(Note: Commercials are included in the TVEyes database)
Of the eight stations studied, QVC had the most mentions of "Christmas" since Dec. 1, with 614 (an average of 87.7 per day). Fox News came in second, with 410.
C-SPAN had the fewest mentions of "Christmas" (63), with ESPN (184) and CNN (190) also in the bottom three.
HSN led all stations in the study with 518 mentions of "holidays" (about 74 per day). QVC came in second (419 mentions), and HLN was third (165).
"Christmas" was mentioned 2,319 times since Dec. 1 on the eight channels. "Holidays" was said 1,382.
The "Christmas" to "holidays" ratio winner was MSNBC. The network had about 5.1 "Christmas" mentions for every "holidays." Behind MSNBC was ESPN (4.4 ratio) and FNC (4.3).
The station with the lowest "Christmas" to "holidays" ratio was HSN. They had 0.7 "Christmas"es for every "holidays." HSN was the only station to say "holidays" more than "Christmas" of the eight studied. QVC had the second-lowest, with a 1.5 ratio, while HLN was third, with 1.8.
Below, enjoy the full results of the study on "Christmas" vs. "Holiday" mentions on cable TV so far this month:
The War On Christmas
Mentions of "Christmas"
Mentions of "Holidays"
Ratio
Fox News
410
96
4.27
CNN
190
67
2.84
HLN
292
165
1.77
MSNBC
224
44
5.09
ESPN
184
42
4.38
QVC
614
419
1.47
HSN
342
518
0.66
C-SPAN
63
31
2.03
Have a tip we should know? tips@mediaite.com