Lafayette Shooter Reportedly Left Trail of Online Posts: Filth Is Rampant In America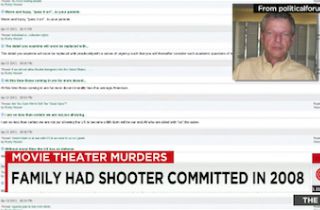 While Louisiana state police have confirmed that John Russel Houser was the one who opened fire at a movie theater before killing himself, a motive has not yet been determined behind his attack or past erratic behavior. Links to Houser's LinkedIn and other online accounts indicate that he occasionally wrote posts on various forums, some of his writings showing extremist ideas.
Politicalforums.com reportedly had a profile belonging to someone with Houser's name and information at the time, and it was on that site that Houser wrote several posts displaying racist and ultra-conservative views:
You have been in a maze created by the media/black block vote/business political alliance created for your long term dismay and discomfort.When a person,business,or country goes immoral[which includes foolish spending] the only thing you can do is let the thing run its course.The course of this country is very near end.
Reports from the Southern Poverty Law Center also point to on an online user who went by the name of "Rusty Houser" who wrote pro-Hitler messages and posted support on a forum for Golden Dawn, a Greek Neo-Nazi political group.
"Do not mistake yourselves for one minute, the enemy sees all posted on this website," Houser said. "I do not want to discourage the last hope for the best, but you must realize the power of the lone wolf."
Reports have also examined message boards where Houser wrote misogynic, homophobic, and white supremacist posts, one of which described how America would soon become a "Mad-Max"-like apocalyptic wasteland.
"The bible doesn't ask me to like what it says, only to obey it," a post said. "Death comes soon to the financially failing filth farm called the US."
A Twitter account was also linked to Houser, where one of its two tweets praised the infamous Westboro Baptist Church as the last religious institution in America:
The Westboro Baptist Church may be the last real church in America[members not brainwashed].

— john russell houser (@jrustyhouser) June 5, 2013
Col. Michael Edmonson told reporters on Friday that police were aware of the posts and Houser's aliases, but that the pieces were still being put together, and that "just because it's on the Internet doesn't mean it's true."
[h/t Talking Points Memo]
[Image via screengrab]
— —
>> Follow Ken Meyer (@KenMeyer91) on Twitter
Have a tip we should know? tips@mediaite.com