LeBron James Suggests Cavs May Not Return to White House if They Win Title During Trump's Presidency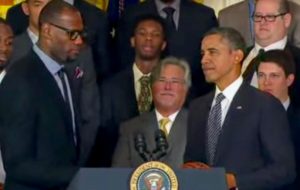 LeBron James has been honored at the White House three times as a member of an NBA championship team during President Barack Obama's administration. He visited in 2012 and 2013 with the Miami Heat, and yesterday, he visited as a member of the Cleveland Cavaliers.
But comments he made yesterday suggest that James may not return for a fourth ceremony, should his team win during President Elect Donald Trump's administration. James was noncommittal when asked about a possible visit to Trump's White House.
"I don't know. That's something I would cross," James said, as reported by the Akron Beacon-Journal. "We'll have to cross that road, I guess. We'll see. I would love to have to cross that road."
Teammate Richard Jefferson went a little further.
"I just look across this league, there's been other players with 'scheduling conflicts' as they like to call it," Jefferson said. "Not necessarily a political stance. But I could see other 'scheduling conflicts' coming up. More than anything, you have to respect the presidency. If you have different views, you're allowed to have different views. That's what's amazing about this country. We're not going to imprison people with different views. But if you want to stand up and you want to say, 'Hey look, my views don't coincide with this current administration,' then you have opportunities, especially being leaders in your respective communities."
Jefferson also posted a photo to Snapchat which he captioned, "Words cannot express the honor I feel being the last team to visit the White House tomorrow," suggesting teams in other sports may also decline a White House invite during Trump's Presidency.
[image via screengrab]
–
Follow Joe DePaolo (@joe_depaolo) on Twitter
Have a tip we should know? tips@mediaite.com
Joe DePaolo - Senior Editor