Let's Party Hard, Bahrain! Andrew W.K. Named State Department's Cultural Ambassador To Middle East (UPDATED)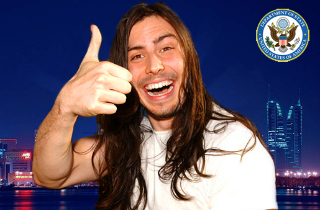 The Middle East is about to learn a thing or two about partying severely hard… all with the help of the U.S. Department of State.
Eleven years after releasing seminal party-rock song "Party Hard," while taking time out from speaking at My Little Pony conventions and designing a pizza-shaped guitar, serial partier (and motivational speaker) Andrew W.K. will head to the Middle East on behalf of the State Department to promote peace… and partying.

According to Mr. W.K., as a Cultural Ambassador he will travel to Bahrain next month and visit elementary schools, the University of Bahrain, and music venues "all while promoting partying and world peace."
Naturally, the man behind songs like "Party All Goddamn Night," "Long Live the Party," and "Party til You Puke" is super stoked to be spreading his motivational party vibes:
"This is a tremendous invitation," he wrote on his website. "I'm very thankful to the Department of State for giving me the opportunity to visit a place I've never been before. And I feel very privileged and humbled by the chance to represent the United States of America and show the good people of Bahrain the power of positive partying. I can hardly wait for this adventure!"
UPDATE: Mother Jones has learned that despite his claims, Andrew W.K. will not be travelling to Bahrain as a "Cultural Ambassador." They report:
A State Department spokesman confirmed to Mother Jones Monday that the man behind the 2001 party-rock album I Get Wet will not in fact be partying 'til he pukes in Bahrain—at least, not in any official capacity. While Andrew W.K. was invited by a US embassy "cultural speakers program" for a possible overseas trip to Bahrain, the embassy in Manama later determined that the program was "not appropriate" and canceled it promptly some time ago. (As for why the recording artist is still hyping up his imaginary position online is anybody's guess.)
[h/t Pitchfork]
— —
>> Follow Andrew Kirell (@AndrewKirell) on Twitter
Have a tip we should know? tips@mediaite.com