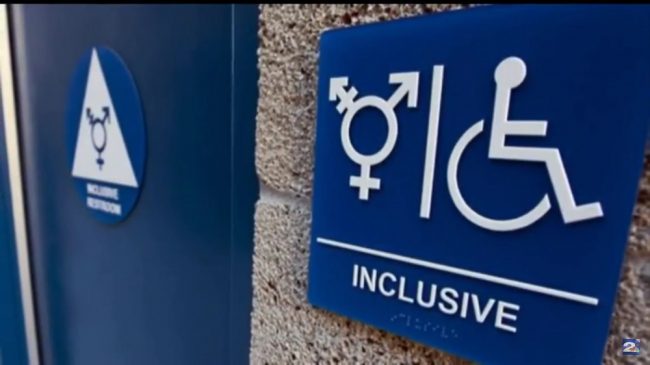 The Human Rights Campaign led a left-wing coalition that sent a letter to the NCAA on Sunday, which can be summed up as a demand to restrict collegiate sports championships to "inclusive" jurisdictions.
ESPN's Katie Barnes covered the letter in a Monday article. Other liberal groups — including the ACLU, GLAAD, and Lambda Legal — signed onto the HRC initiative.
The letter praised the NCAA for "its commitment to ensuring safe and inclusive events," but urged the athletic organization to exclude "venues that are inherently unwelcoming and unsafe for LGBTQ people." The coalition spelled out four criteria to ensure "championships and events…are safe, healthy, and free from discrimination." They hoped that the NCAA would avoid:
• Venues in cities or states with laws that sanction discrimination against LGBTQ people in goods, services or public accommodations.

• Venues in cities or states that prevent transgender people from using the bathroom or locker room consistent with their gender identity.

• Venues at schools that request Title IX exemptions to discriminate against students based on their sexual orientation or gender identity.

• Venues in states that pre-empt or override local nondiscrimination protections for LGBTQ people.
In other words, HRC and its allies want the NCAA to restrict the March Madness basketball tournament and other championships to blue states, even though a significant percentage of college sports fans are conservative. If the left-wing coalition get their way, red states would be punished economically as a bloc for refusing to go along with their radical agenda.
Barnes later reported that NCAA president Mark Emmert's response to the letter on Monday.
Emmert replied, in part, that "the bidding process for hosting NCAA events now explicitly asks potential sites how they will provide an environment that is safe, respectful and free of discrimination at the events." He added, "We expect that all people will be welcomed and treated with respect at our NCAA championships and events."
There's no word on whether the NCAA president is "respectful" to social conservative views. We certainly know that HRC isn't respectful of them.
[image via screengrab]
This is an opinion piece. The views expressed in this article are those of just the author.