Liberal Radio Host Broadcasts Mock Phone Call To Hell To Check Up On Andrew Breitbart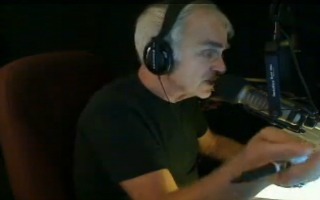 On Tuesday, liberal radio host Mike Malloy broadcast a mock telephone call to Satan in Hell to check up on the status of the recently deceased conservative blogger and media pioneer Andrew Breitbart.

RELATED: Liberal Radio Host Mike Malloy: Bush 'Responsible For A Lot More Innocent Death Than Bin Laden'
"Hey, Satan," Malloy began. "Yeah, it's hot up here too."
"I was just reading something by someone named Andy – not the Andy that you've got down there," Malloy continued, referring to Breitbart. "I just want to ask you, how's Andy doing?"
He went on to hold a one-sided conversation with himself reacting to Satan's revelations about Breitbart's treatment in Hell.
"With the starfish thing," asked an incredulous Malloy reacting to the description of some infernal torture. "Well, that's to be expected. It's pretty painful."
"No, you'll never see me down there pal, because I know you don't exist," Malloy concluded.
When Satan wanted to know what the news was on Earth, he said that ACORN is "making a comeback" and Planned Parenthood is still operating.
"That'll frost his ass," said Malloy.
This is Malloy's shtick. His radio show has always had the tone of your average political comment thread. If you ever wondered what would happen if you gave a Twitter troll his own show, the answer is probably something like this.
Malloy has said that former President George W. Bush is responsible for many more deaths than Osama bin Laden. He has ridiculed tornado victims residing in red states and said that God has punished them. He has even blamed former Vice President Dick Cheney is responsible for 9/11 and advised his daughter Liz Cheney that her time would be better served preparing for his funeral.
But this is over the line even for Malloy. In March, weeks after Breitbart's death, Malloy said that he should "burn in Hell" and that he was "goddamn glad" he died. Nothing happened then, probably nothing will happen to him now — but its a glaring example of selective indignation in the media over the "civil discourse" issue.
It's almost always a losing game to play "what if a conservative said it," if only because proving a negative is next to impossible. But in this case, the answer should be quite clear. Malloy can suggest that SEAL Team Six should drop in on former President Bush, but calling a reproductive rights activist a "slut" costs a conservative radio host millions in adverstising dollars and a few syndicated stations.
What's wrong with this picture?
Listen to the segment below:
h/t Radio Equalizer Brain Maloney
> >Follow Noah Rothman (@Noah_C_Rothman) on Twitter
Podcast: Play in new window | Download
Have a tip we should know? tips@mediaite.com