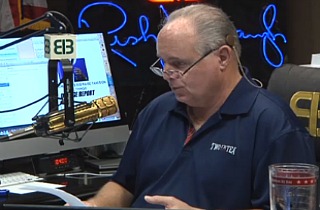 Rush Limbaugh took on the VA deaths scandal on Monday, touting this as the home of the "death panels' the right had been speaking of years ago. And because that was a talking point against Obamacare, Limbaugh argued that what happened to veterans waiting for benefits at the VA is a "microcosm" of what will happen once Obamacare is fully implemented.

He observed: "We still gotta find a way to convince people that this Obamacare can't work and that everybody's headed for a similar potential as these deaths in the VA."
The scandal, which President Obama reportedly found out about in the media, has gone from just the one report about an Arizona VA facility to issues with veterans not receiving timely treatment over the country. To Limbaugh, it's either death panels or "incompetence."
And he argued that far from just accepting "excrement happens" as an excuse, Obamacare opponents should be arguing that what happened to veterans will happen on a grander scale if the health care law is implemented in full.
"A lot of people are trying to figure out ways to persuade people this isn't gonna work. No matter how big anybody's heart is, no matter how much they care, here is a microcosm of what Obamacare is gonna be if it's fully implemented. And the reason you want to tell 'em that is because you want to gin up as much popular support for repeal of this as you can."
Listen to the audio below, via The Rush Limbaugh Show:
[image via screengrab]
— —
Follow Josh Feldman on Twitter: @feldmaniac
Have a tip we should know? tips@mediaite.com
Josh Feldman - Senior Editor