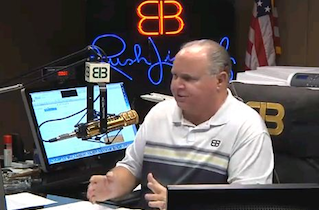 Radio host Rush Limbaugh, reacting to the admission by a senior White House advisor that he is prone to mocking reporters who bring up stories they read on Matt Drudge's news aggregator, Drudge Report, defended the site from the Obama administration's criticism. He said that Drudge Report serves the same purpose for average news consumers that the New York Times does for members of the media by setting the daily narrative. Limbaugh advised the cash-strapped Times to more closely follow Drudge's model.

RELATED: Matt Drudge Defends Jay Leno From Liberals 'Cheering' His Exit: He 'Dared To Entertain Other 50% Of Country'
"Very little of what is on Drudge does Drudge write," Limbaugh said in defense of the popular news aggregator. "The genius or the brilliance of Drudge is that he happens to pick stuff that millions of people are interested in but wouldn't see if he didn't post it for them, because It's being excluded by other people."
Limbaugh pivoted to the Times which he said is trying, like many papers, to monetize their website. "The New York Times should be doing what Drudge is doing if they're really interested in the news," he said. "But they don't do it."
"The New York Times provides the same role for the rest of the media," Limbaugh added. "Whatever is in the New York Times in the morning is what gives newsrooms their marching orders for the rest of the day."
He found it odd that a White House advisor would attack Drudge for being essentially in the same business as The New York Times. "It's all part of the effort to delegitimize what is on Drudge," Limbaugh concluded.
Listen to the clip below via The Rush Limbaugh Show:
h/t Daily Rushbo
> >Follow Noah Rothman (@NoahCRothman) on Twitter
Have a tip we should know? tips@mediaite.com