Local News Personality Facing Ad Boycott After Tweeting He Wants to 'Ram a Hot Poker Up David Hogg's Ass'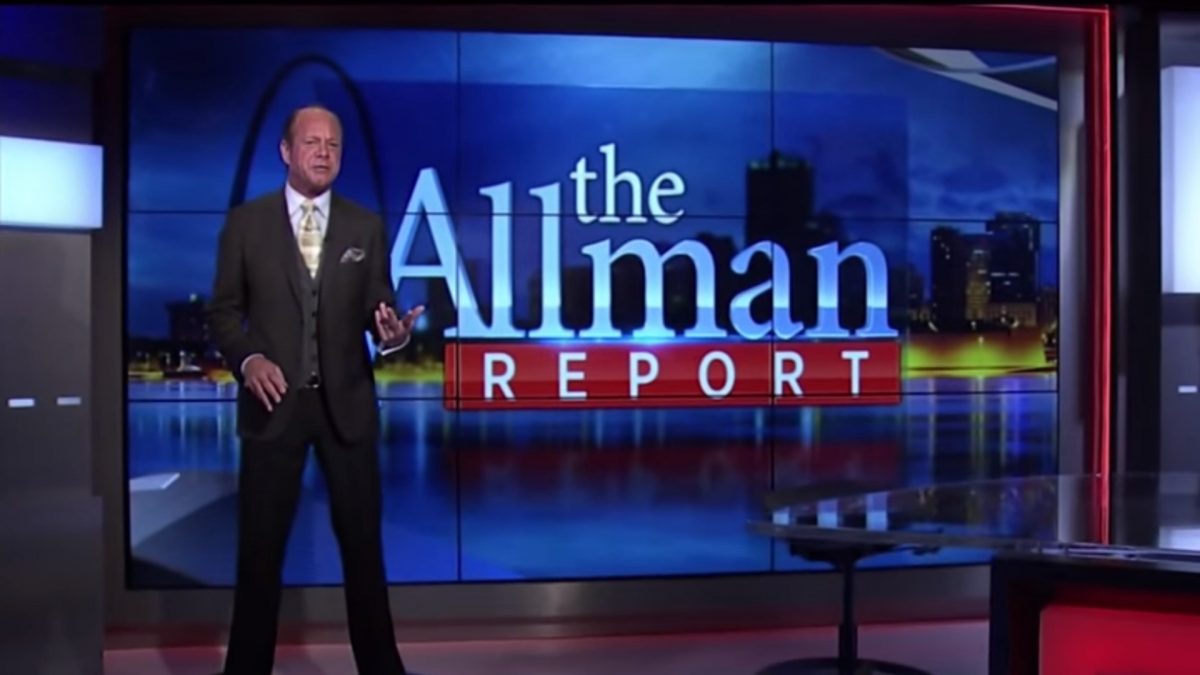 It appears that Fox News' Laura Ingraham isn't the only conservative news personality dealing with an advertiser boycott for going after Parkland survivor and gun control activist David Hogg.
Late last month, St. Louis-area television and radio host Jamie Allman took to Twitter to express his frustration with the 17-year-old high schooler, stating that he's "been hanging out getting ready to ran a hot poker up David Hogg's ass."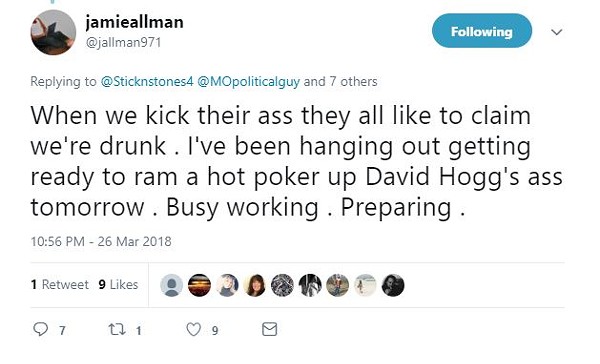 That tweet, which was actually sent days before Ingraham's that resulted in the Fox News host seeing an avalanche of sponsors ditch her program, received little attention until last week when screenshots of it began making the rounds on social media. On April 5, Missouri State Representative Stacey Newman (D-87) called out Allman on Facebook and published a list of Allman's advertisers, asking people to contact the companies and sign a petition.
Allman, who hosts a morning radio talk show on 97.1 FM and The Allman Report on Sinclair-owned ABC affiliate KDNL-30, has deleted the tweet. But since tweeting that he'd like to sodomize Hogg with a hot poker, he has taken aim at the young man and other Parkland student activists, claiming on the air that they grab their blankets when criticized and mocking them for complaining about a new clear backpack rule at their school.
As of the time of this publication, three companies have pulled their advertisements from Allman's programming — PALM Health, Ruth's Chris Steak House and the Gellman Team.
Meanwhile, the majority of advertisers have stuck by Allman for the time being. And Allman has received a number of supportive tweets over the past few days, many of which he retweeted over the weekend. (Currently, Allman has protected his Twitter account, making it private.)
During this morning's radio broadcast, Allman did not address the controversy over the tweet nor the burgeoning ad boycott.
[image via screengrab]
—
Follow Justin Baragona on Twitter: @justinbaragona
Have a tip we should know? tips@mediaite.com