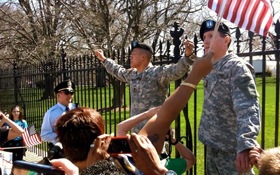 Lt. Dan Choi, who has emerged as one of today's most respected and credible gay rights activist after facing discharge for coming out in an interview with Rachel Maddow, is not going down without a fight. Hot off serving his first night in jail for chaining himself to the White House fence to protest Don't Ask Don't Tell, he granted Newsweek an exclusive interview. And, no, he is still not happy with co-protesters Kathy Griffin and the Human Rights Campaign.
Lt. Choi is not on board with the frivolous gay stereotype, and he admits that he believes the gay activist community itself is partially to blame. His main point: the repeal of DADT is a human rights issue, not a class issue. "We are tired of being stereotyped as privileged, bourgeois elites," he notes, "you do not represent us if all you are looking for is a ladder in to elite society." And he refuses to acknowledge any activist that will not sacrifice something for the cause. Yes, Griffin and the HRC (who refused to let him speak at the event they invited him to) are on that list, not only for refusing to let him speak and opposing his chaining to the White House, but for breaking promises. "Kathy Griffin and [HRC president] Joe Solmonese said they would march with me to the White House but didn't. I feel so betrayed by them," he told Newsweek.
Not only has Lt. Choi adopted the techniques and belief system of a human rights activist, he's adopted their language. Both Harriet Tubman and Gandhi make appearances in the interview, and in what is perhaps the most intelligent but destined to be ignored sentence in the interview, he complains about the politization of the gay rights cause by pointing out that "Jesus up on the cross did not have a party with all his major donors to raise money for his cause, his cross was free." His approach is the complete opposite of a gay pride parade.
Fortunately for Lt. Choi (and unfortunately for Griffin and the HRC), people are agreeing with him that the self-ridicule coming from the gay community is almost as bad as the discrimination they are fighting. Gay issues blog Queerty, for example, hit the nail on the head when describing the surging tension between activists like Choi and what they call "Gay, Inc.": "There's something so refreshing about seeing a determined man, who is personally affected by a discriminatory policy, mobilize at the very moment when HRC refuses. And it's not refreshing — it's courageous — to see this man do so while upholding his promise to serve his country and keep his fellow Americans safe. Because that is what this fight is about."
Lt. Choi and co-protester Capt. Jim Pietrangelo refused their attorney's advice to pay a $100 fine for their civil disobedience and are pleading not guilty. The trial date is currently set for April 26: more than enough time for the duo to rally support from a new breed of gay rights activists.


Have a tip we should know? [email protected]