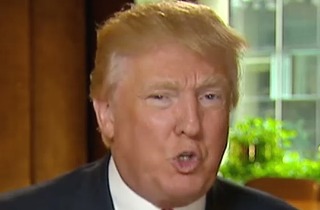 On the heels of NBC dropping Donald Trump after his derogatory comments about Mexican immigrants, Macy's is now facing pressure to do the same while it carried several products bearing Trump's name. And it's possible that such a move would do the department store some good since it's heading into dire straits.
If you'll recall, Trump said that Mexican immigrants were bringing "drugs" and "crime" across the border and that "they're rapists." That quickly lost him the support of Univision and later NBC. But there is still the question of Macy's, which has been struggling in the retail sector and still carries men's apparel, accessories, and the men's fragrance "Success." Trump is also prominently featured as a spokesperson for the company, so he's not easy for Macy's to simply brush to the side or apologize for.
Meanwhile, Macy's is basically eating it as a brick-and-mortar retailer; its e-commerce is doing okay, but getting people to come into stores is getting harder. While Trump's presence might not be helping, the biggest problem is Michael Kors, whose products are no longer exclusively sold at the store and are allowing people to buy them elsewhere. Still, Trump is not helping, and dumping the presidential candidate might do Macy's some good.
A petition is currently making the rounds asking for a separation from Trump. So far it's gathered more than 700,000 signatures and it isn't even the first of its kind. But the writing on the wall for Macy's will probably not come from that but from internal reports.
[h/t RetailDive]
Have a tip we should know? tips@mediaite.com