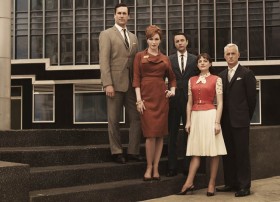 "Nostalgia," said Don Draper to the hushed and darkened room. "It's delicate, but potent…Teddy told me that in Greek, nostalgia literally means the pain from an old wound. It's a twinge in your heart, far more powerful than memory alone." Then he convinced a roomful of clients that calling it a Carousel might actually reinvent the wheel. Suckers!
But seriously: If you are reading this instead of enjoying a beautiful summer weekend, then you, too, are afflicted with that same pain. We can't speed time up and make it Sunday at 10 p.m. any faster than the Lord or Matthew Weiner willeth, but we can pull together a few videos that will slake your mighty thirst, momentarily.
1. Meshugeneh Men
Created by then-Daily Show writer (now Tonight Show writer) Rob Kutner for his annual Purim comedy show in New York (along with his wife, Penn & Teller comedy writer Sheryl Zohn), but really it works just as well for Rosh Hashanah. Cameos by Amy Sedaris and Ellie Kemper (who plays Erin the receptionist on The Office):
2. Mad Libs Men:
College Humor's take on Mad Men, coincidentally featuring the same guy as Don Draper (Matthew Walton). This guy better hope the third season is good; there's a nice little market in parody videos, and Mad Men is pretty fertile. LIKE BETTY DRAPER?

3. Two A-Holes At A Sixties Ad Agency
This excellent and star-studded video is from when Jon Hamm hosted SNL last October. The return of the A-Holes plus the merging of them with a retro-Mad Men story pitch was pretty perfect. Featured guest-cameo by John Slattery, who is also pretty hot, and Elizabeth Moss, who was not originally supposed to be in it but stepped in at the last minute when Amy Poehler inconveniently went into labor. Hamm's speech about the Hula Hoop gets me misty, almost as misty as Jon Hamm's John Hamm.

4. The Simpsons Mad Men Parody
Like many Mad Men clips on YouTube, the embedding has been disabled. But if you want to see it, it's here.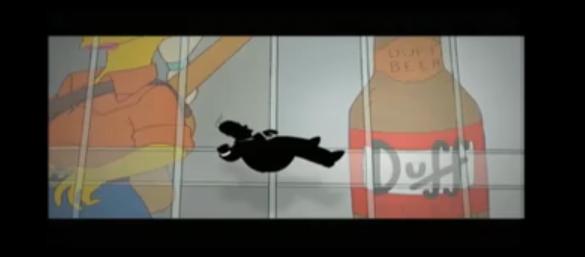 Related:
The Mad Men (And Women!) of Morning Joe
Pic above via Mad Men official website.
Have a tip we should know? [email protected]