Maddow: If O'Donnell Really Got Secret China Info Shouldn't There Be A Criminal Investigation?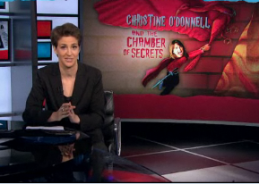 Rachel Maddow started her show last night by declaring that she had probably given Sarah Palin less attention than anyone else on cable. The reason for that, she explained, was primarily because Palin does not have job beyond her Fox News position. Should Palin ever officially throw her hat in the ring, however, she can probably expect the same level of attention Maddow has been devoting to Christine O'Donnell of late.
Said Maddow last night: "In the last 24hrs, remarkably, the Republican party decided to get behind probably their least viable ticket candidate anew…they've also decided the party is going to adopt the single craziest position that candidate has taken in what has been a thoroughly crazy campaign."
You got it! Christine O'Donnell's secret security clearance that enabled her to obtain classified information about China's impending takeover of America. In the last few days neither Michael Steele nor Ed Gillespie would deny that Christine O'Donnell could possibly have obtained this information.
"This is incredible!" Says Maddow, pointing out that security clearances are not all that easy to come by, "my guess is conservative pr reps with friends who are missionaries, are probably not at the top of the governments need-to-know list…even in the Bush administration." Not to mention, the person "leaking" that information would be subject to prosecution, and if Steele and Gillespie are unwilling to deny the possibility of O'Donnell having access to this information perhaps there should be a criminal investigation! Watch below (and yes, she's kidding).
Have a tip we should know? [email protected]