Lawrence O'Donnell, The Anti-Cable News Host, Makes Correct Cable News Host Choices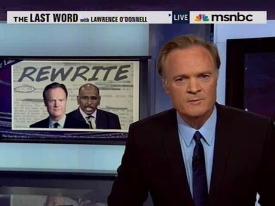 Lawrence O'Donnell impressed to me last week how TV hosting was never part of his plan – he "parachuted" in, and "quite accidentally ended up on this side of the TV business."
Maybe that's what makes him the perfect person for the job, evidenced by his fantastic, emotional apology to Michael Steele last night.
It is conceivable that no one has said anything so genuine, so sincere, so damn nice about RNC Chairman Michael Steele ever on national television – and it came from an MSNBC host. And it came after an introduction to an interview (that both sides enjoyed) included language Steele deemed to have racial undertones.
O'Donnell described Steele as "dancing as fast he can" while "never losing sight of his real master," the RNC. Steele responded in a phone message, which O'Donnell played on the air. "I've had to put up with that crap my entire political life," said the RNC Chair. "So, really disappointed in your reference there."
"I called him back immediately and apologized," said O'Donnell. "He could have not been more gracious and forgiving." O'Donnell said Steele noted the "apology on the phone was more than anyone else had done who had slighted him in the past."
In his "Rewrite" segment, he changed his intro from the night before (although kept in the dancing part), and while he did take a mild shot at Steele for not stepping up and condemning the Carl Paladino emails ("I think we all know what Michael Steele would like to say about his New York candidate's emails"), he closed with a pause, and, "Mr. Chairman, I sincerely apologize."
Let's start with a simple question: WWKOD (What Would Keith Olbermann Do)? Here's Olbermann last night attacking Rick Sanchez for not apologizing enough. Now Michael Steele himself is no stranger to feeling heat for the way he's phrased certain statements (although there isn't the added racial element). And he has been attacked hard by the left and the right. It takes a cable news host taking a public figure completely seriously to apologize in this way, and O'Donnell proved he can avoid the bomb-throwing and vitriol, and politics, in favor of sincerity.
When Rachel Maddow first premiered, there were high hopes she was on this path. She was clearly left-wing, but she wasn't angry or dismissive. She had Pat Buchanan during her first week for his own segment "It's Pat!" But while Maddow is still seen as fair by many, her show features fewer and fewer guests outside of the left world. O'Donnell has accomplished this, but there is another anti-cable news element that is working for his show – theatrics.
It's hard to argue that a memorable moment like the apology last night didn't have a dash of West Wing to it, sincere as it was. O'Donnell's history in Hollywood and as a political drama show writer lends itself to a unique quality in the cable news sphere: he gets what you want. He also gets that, even on cable news, he has to put on an entertaining show. It's what made the Levi Johnston interview so great – it wasn't rude or argumentative, it was just a fantastically executed idea.
The Last Word is off to a strong start in the ratings for MSNBC, which O'Donnell knows matter. But more importantly, it's off to a very anti-cable news start – and in a world of repeaters, surprising candor and entertainment is appreciated.
Here's the segment last night:


—–
» Follow Steve Krakauer on Twitter
Have a tip we should know? tips@mediaite.com