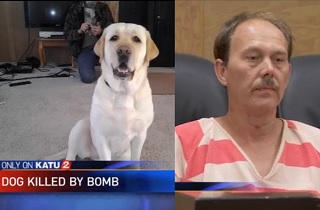 A Washington state man named Christopher Dillingham is in custody on half-a-million dollars bail for allegedly attaching an explosive around a dog's neck, and blowing her up. Dillingham faces a variety of charges, but animal cruelty is not among them. According to Skamania County Undersheriff Dave Cox, that's because law enforcement officials reason that the dog's death was instantaneous, so Cabela, the yellow lab who was the victim of Dillingham's alleged attack, did not suffer.
According to KATU's reporting, the attack was an escalation of an argument between the 45 year-old Dillingham and his daughter, who owned Cabela:
Christopher W. Dillingham, 45, was charged with reckless endangerment and possession of an explosive device.

A law-enforcement official said early Tuesday morning the Dillingham killed the dog in retaliation after a fight with his daughter, whom the dog belonged to. The official asked to remain anonymous, citing the ongoing investigation.

Sheriff's deputies were sent to Dillingham's home just before 4 a.m. after multiple people called 911 reporting that they heard an explosion.

…Responding deputies said they found the remains of the dog on Dillingham's property. They also found that Dillingham was throwing furniture from his house.

Investigators believe he attached the explosive device to his yellow lab's neck and detonated it.

Undersheriff Dave Cox said Dillingham wasn't initially accused of animal cruelty because the charge requires proof of animal suffering and in this case, "death (to the dog) was instantaneous." He said prosecutors might file such a charge later.

"I don't think anybody in my office or prosecutors or the criminal justice system will sit back and say the dog is no big deal," Brown said. "I think it's a tragedy."
KATU also interviewed Ty Freemantle, the man who though he had found a good home for Cabela with Dillingham's daughter, and who is now understandably heartbroken:
Florida's animal cruelty statute does include language about suffering in its definition of cruelty, but the statute on the killing of an animal reads as follows (emphasis mine):
(1) A person who unnecessarily overloads, overdrives, torments, deprives of necessary sustenance or shelter, or unnecessarily mutilates, or kills any animal, or causes the same to be done, or carries in or upon any vehicle, or otherwise, any animal in a cruel or inhumane manner, is guilty of a misdemeanor of the first degree, punishable as provided in s. 775.082 or by a fine of not more than $5,000, or both.

(2) A person who intentionally commits an act to any animal which results in the cruel death, or excessive or repeated infliction of unnecessary pain or suffering, or causes the same to be done, is guilty of a felony of the third degree, punishable as provided in s. 775.082 or by a fine of not more than $10,000, or both.
The question, then, is whether blowing an animal's head off qualifies as a "humane" death. The sheriff and prosecutors in this case appear to be charging Dillingham with what they're certain they can convict him of, but it's hard to imagine any jury would find such an act to be humane.
Have a tip we should know? tips@mediaite.com