Man Sues Sports Blog After It Refers To Him As 'Jersey City Pedophile,' Blog Claims Satire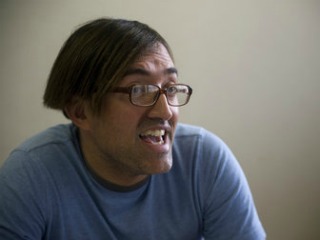 New Jersey man Isaac Mendez sued sports and entertainment site Barstoolsports.com after it published his name and picture (which appears at left) under the headline "Jersey City Pedophile Loses His $4 Million Lotto Ticket, Sues the Whole World." After the lawsuit, Barstool Sports — which has stories ranging from "Owl Petting Dog" to "Toddlers Banned From Making Twinkle Twinkle Hand Gestures Because The Sign For Diamond Means Pussy In Sign Language" — issued a retraction for their original story and its accompanying headline, explaining that these had been meant as satire.
RELATED: Media Matters Taunts Andrew Breitbart Over Use Of Altered Nazi-Era Cartoon
According to Mendez's lawsuit, the photo used by Barstool Sports for their story was "plagiarized" from NJ.com, an aggregation site that curates stories from various New Jersey newspapers. Almost exactly one year ago, NJ.com had posted an article from the Jersey Journal chronicling a lawsuit Mendez had filed against the state of New Jersey over a lottery ticket dispute. Barstool Sports, his claim adds, then embellished the story by describing Mendez as "a pedophile, a rapist, a kid toucher, and a pederass [sic]."
The sports site has since updated its original post (by author "KFC") with the following explanation:
A year ago I wrote a blog about Isaac Mendez who was suing the NJ Lottery for a lost lotto ticket. The headline of the blog at the time was "Jersey City Pedophile Loses His $4 Million Lotto Ticket, Sues The World." In the first paragraph I clearly state that I was being satirical in nature with that description of Mr. Mendez. In no way did I intend to infer that Isaac Mendez was ever accused of any deviant behavior or has any criminal record of any sort. For anybody who misunderstood the satirical nature of that blog please excuse the inconvenience.
In any case, Mendez is pushing forward with his lawsuit, seeking a reported $100 million in damages for "defamation, negligence and intentional infliction of emotional distress."
Have a tip we should know? tips@mediaite.com