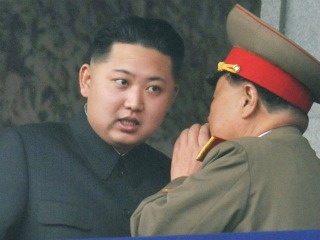 What do we know about Kim Jong-un, the youngest son and presumed successor to recently deceased former dictator Kim Jong-il? The answer is, well, "not much," both because North Korea hasn't released much information about the young man — who is, tellingly, believed to be somewhere between 27 and 29 — and because the information the country has officially released can't always be trusted. If any particular detail seems too charming, funny, whimsical or endearing… then it's probably just too good to be true. That said, the current portrait being painted of Kim — whether it be hyper-realistic or something just shy of surrealism — will follow him as be steps increasingly into the national spotlight.
Here, then, are some things that we know about Kim Jong-un:
RELATED: North Korean Leader Kim Jong-il Is Dead According To State Television
The third and youngest son of Kim Jong-il, Kim Jong-un has been groomed for succession by the Korean Workers Party ever since his father suffered a stroke in the summer of 2008. That same year, he was put in charge of North Korea's police and intelligence service.
After news broke of his father's death, Kim Jong-un was announced as the nation's "Great Successor" via state television.
Some analysts, however, believe that Jong-un's uncle, Chang Sung-taek, will act as regent since Kim presently lacks the experience to lead North Korea right away.
Matriculating under a pseudonym, Kim Jong-un attended the English-language International School of Berne, Switzerland.
He is also said to have studied computer science in Korea.
He's a big fan of basketball in general, and of Michael Jordan in particular. Or, at any rate, that's the rumor being floated around. As a Time profile on Kim Jong-un notes, it remains unclear if "that is actually true or just a cute biographical detail invented by North Korean propagandists."
Described as having been his father's favorite, Kim's favor was further cemented after his older half-brother, Kim Jong Nam, turned up in Japan in 2001 using a fake passport and asking to visit Tokyo's Disneyland.
For many years, the only confirmed picture of Kim was one taken when he was 11 years old. His first official, confirmed picture as an adult was released on September 30th, 2010
According to Kim Jong-il's former personal chef, Kenji Fujimoto, Kim was also preferred over his elder brother, Kim Jong-chul because Jong-chul "is too feminine in character, whereas Jong-un is "exactly like his father." In addition, Jong-un was described by Fujimoto as being "a big drinker" who "never admits defeat."
Some reports say Kim is a diabetic and suffers from hypertension.
Below, check out an Al-Jazeera report on Kim, including footage of him as a teen studying abroad:
Have a tip we should know? tips@mediaite.com