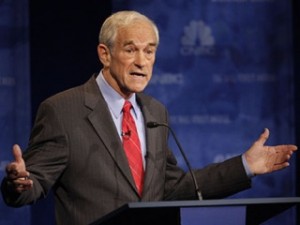 Dem pollster Public Policy Polling has a new poll out showing Republican presidential candidate Ron Paul surging in Iowa, just weeks before the state's caucuses. The polling firm found Paul leading the pack, with 23% in the Hawkeye State, with Mitt Romney not too far behind at 20%. Newt Gingrich's grasp of the state is starting to slip away, with the former Speaker of the House polling at 14%. Though, perhaps curiously, the poll hypothesizes that a horde of independent voters will register Republican to caucus for Paul.
PPP has more:
Newt Gingrich's campaign is rapidly imploding, and Ron Paul has now taken the lead in Iowa. He's at 23% to 20% for Mitt Romney, 14% for Gingrich, 10% each for Rick Santorum, Michele Bachmann, and Rick Perry, 4% for Jon Huntsman, and 2% for Gary Johnson.

Gingrich has now seen a big drop in his Iowa standing two weeks in a row. His share of the vote has gone from 27% to 22% to 14%. And there's been a large drop in his personal favorability numbers as well from +31 (62/31) to +12 (52/40) to now -1 (46/47). Negative ads over the last few weeks have really chipped away at Gingrich's image as being a strong conservative- now only 36% of voters believe that he has 'strong principles,' while 43% think he does not.

Paul's ascendancy is a sign that perhaps campaigns do matter at least a little, in a year where there has been a lot of discussion about whether they still do in Iowa. 22% of voters think he's run the best campaign in the state compared to only 8% for Gingrich and 5% for Romney. The only other candidate to hit double digits on that question is Bachmann at 19%. Paul also leads Romney 26-5 (with Gingrich at 13%) with the 22% of voters who say it's 'very important' that a candidate spends a lot of time in Iowa. Finally Paul leads Romney 29-19 among the 26% of likely voters who have seen one of the candidates in person.
Hot Air's Ed Morrissey is skeptical about the poll's good news for Paul. "There is no doubt that Paul was picking up some momentum in this race, but the PPP poll seems way too problematic for any conclusions about its current state."
Unlikely Voter's Neil Stevens also casts doubt upon the legitimacy of the poll. "Do we really think a horde of Independents who hate the Republican Party will show up at the last minute, register Republican, and caucus for hours with Republicans? I don't buy it, and neither should Iowa Republicans."
Have a tip we should know? tips@mediaite.com