Man Who Filmed Walter Scott's Death Held Video; Waited to See if Police 'Continued with the Lies'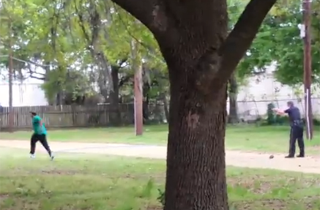 The outcry over the death of Walter Scott stems from a video, taken by an anonymous bystander,
that depicts police officer Michael Slager shooting at Scott eight times as he flees. In an interview with Time, however, Scott's brother says that the video may not have come out if the police hadn't initially tried to paint Slager as innocent.
Anthony Scott told Time that he found the circumstances surrounding his brother's death, caused after a routine traffic stop, highly suspicious. "When I got there somebody told me that he was gone. And I was like what in the world? What happened? What happened? How did you get killed in a random stop? It just didn't make any sense to me."
Slager initially said that he shot Walter Scott out of fear for his life, claiming that he had taken his stun gun, and police performed CPR immediately on the shooting victim. The video, which Scott said he received at a wake earlier this week, showed otherwise:
"He wanted to see what reports were coming from the North Charleston Police Department because of the fact that they may have told the truth," Scott said in an phone interview from home with TIME Wednesday. "And when they continued with the lies, he said, 'I have to come forward.'"

…"I was angry. Shocked," Scott said. "I said, 'We have to have that.' So that we could prove it was innocent."
Scott credits the bystander and the video with getting Slager charged with murder. "I think that if that man never showed the video we would not be at the point that we're at right now," he said. "The video tells the truth. It would not be so hard for us to prove that this man was running away when you get shot in your back. I mean how can you defend that?"
The man who filmed the video has not yet been named.
[Time]
[Image via screenshot]
—
>> Follow Tina Nguyen (@Tina_Nguyen) on Twitter
Have a tip we should know? tips@mediaite.com