Rand Paul: Ask DNC Head If It's OK to 'Kill a 7-Pound Baby In the Uterus'; She Responds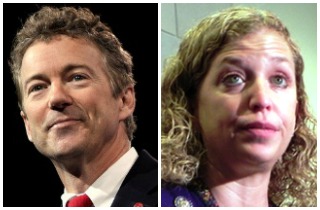 Senator Rand Paul gave an interview earlier today to the Associated Press in which he discussed his position on abortion. Paul was pressed on whether he believes in any exceptions for abortion, like in cases of rape or incest, but the AP write-up notes that Paul "would not say" and he "grew testy" when confronted about his position.
At one point, when Paul was asked a campaign stop about the interview, he retorted, "Why don't we ask the DNC: is it OK to kill a 7-pound baby in the uterus? You go back and go ask Debbie Wasserman-Schultz if she's OK with killing a 7-pound baby that's just not born yet."
He said the DNC chair should answer first and then he'd get back to her. Well, Wasserman-Schultz ended up responding in a statement provided to CNN:
"Here's an answer. I support letting women and their doctors make this decision without government getting involved. Period. End of story. Now your turn, Senator Paul. We know you want to allow government officials like yourself to make this decision for women –– but do you stand by your opposition to any exceptions, even when it comes to rape, incest, or life of the mother? Or do we just have different definitions of 'personal liberty'? And I'd appreciate it if you could respond without 'shushing' me."
Wasserman-Schultz is referring to the time Paul literally shushed a female CNBC interviewer during a contentious back-and-forth.
Update- 8:04 pm EST: Paul responded on CNN. You can watch here:
[h/t Bloomberg]
[image via Gage Skidmore, Medill DC]
— —
Follow Josh Feldman on Twitter: @feldmaniac
Have a tip we should know? tips@mediaite.com
Josh Feldman - Senior Editor