Manafort's Notes From Russia/Don Jr. Meeting Reportedly Referenced Donations and 'RNC'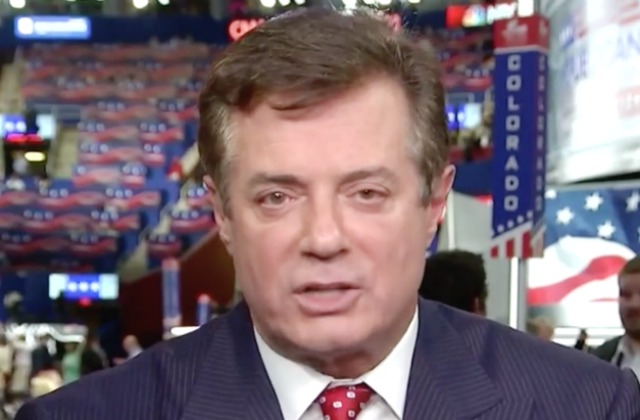 NBC News reported today that former Trump campaign chief Paul Manafort took notes during the infamous June 2016 Trump Tower meeting with Russians, and his notes included cryptic references to donations and the Republican National Committee.
The meeting — which became a major focal point for Special Counsel Robert Mueller's investigators following the revelation that Donald Trump Jr. agreed to the meeting due to the promise of Russian dirt on Hillary Clinton — included Kremlin-connected lawyer Natalia Veselnitskaya and Russian-American lobbyist Rinat Akhmetshin, along with current White House senior advisor (and Trump son-in-law) Jared Kushner.
Per NBC News, investigators are looking at these notes to determine whether there were discussions of monetary contributions to the campaign from Russian sources, which would be illegal. Manafort's notes have been turned over to investigators.
Manafort's notes, typed on a smart phone and described by one source briefed on the matter as cryptic, were turned over to the House and Senate intelligence committees and to Special Counsel Robert Mueller. They contained a reference to political contributions and "RNC" in close proximity, the sources said…

Manafort spokesman Jason Maloni told NBC News that "it is 100 percent false to suggest this meeting included any discussion of donations from Russian sources to either the Trump campaign or the Republican Party. Mr. Manafort provided the Senate Intelligence Committee with the facts and his notes so this speculation and conjecture is pointless and wrong."
Initially, NBC News had stated the word "donation" was in the notes, but a spokesperson for Sen. Chuck Grassley (R-IA) told the outlet that the word did not appear in what was turned over to the Senate committee. According to NBC News, their sources said there was a reference to political contributions and one word used was "donor."
This story comes in the wake of a number of developments in the Russia investigation. It was reported yesterday that Mueller's team is now exchanging information with New York Attorney General Eric Schneiderman on a potential criminal case against Manafort. It has been speculated that this could be a way to get around President Trump's pardon powers as Trump wouldn't be able to issue a pardon for state crimes.
Meanwhile, Trump's attorneys have reportedly been laying out arguments to Mueller that Trump did not commit obstruction of justice when the president fired ex-FBI chief James Comey.
[image via screengrab]
—
Follow Justin Baragona on Twitter: @justinbaragona
Have a tip we should know? [email protected]