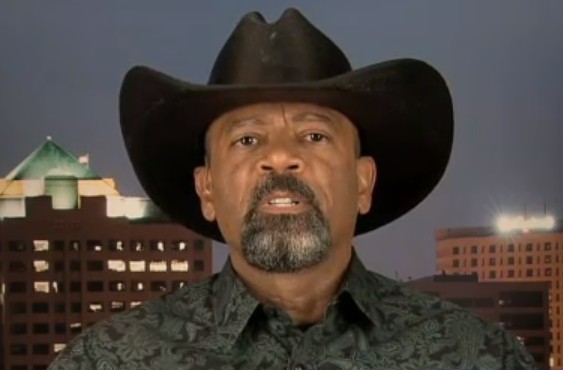 Earlier today, it was reported that David Clarke had tendered his resignation as Sheriff of Milwaukee Country. At the time, it was unclear what Clarke's plans were following his departure. Now, it appears we have an idea.
According to Politico, Clarke is expected to take a position with the Trump administration. However, there is no word yet on what role the outgoing sheriff will take. Politico noted that a White House spokesperson said there was "no announcement at this time" while Clarke told them that he'll talk about his "future plans next week." It does appear to be a safe assumption that Clarke won't be offered a role that requires Senate confirmation.
One thing is for certain — the president is a big fan of the outspoken and controversial figure. Earlier this week, POTUS plugged Clarke's book on Twitter:
A great book by a great guy, highly recommended! https://t.co/3jbDDN8YmJ

— Donald J. Trump (@realDonaldTrump) August 27, 2017
However, while it is being reported that Clarke will join the administration, Washington Post's Abby Philips tweeted out that her sources said that he's more likely to join an outside group:
Getting strong pushback on idea that Sheriff Clarke joining the Trump admin. Two sources familiar deny it. Likely to join an outside group.

— Abby D. Phillip (@abbydphillip) August 31, 2017
If this feels like deja vu, it's because we've been down this road before with Clarke. Earlier this year, he announced that he had accepted a position with the Department of Homeland Security, only for DHS to claim that nothing had been confirmed. Weeks later, following a plagiarism scandal, Clarke removed his name from consideration for a DHS role.
[image via screengrab]
—
Follow Justin Baragona on Twitter: @justinbaragona
Have a tip we should know? tips@mediaite.com