Marcus Bachmann: Cool With Being Called 'Silver Fox,' Just As Long As That Doesn't Mean Gay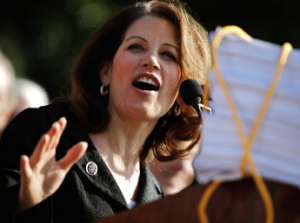 The New Yorker's Ryan Lizza will likely spark some interesting conversation with his profile of Michele Bachmann and her husband Marcus. Lizza, who flew with the Bachmanns aboard their campaign plane (dubbed the "Barbie Jet" by the candidate herself, we learn), reveals the rules of access between the candidate and the press: no pictures when she's in casual clothes:
She swung around to face the press, displaying the front-page headline: "ROMNEY, BACHMANN LEAD REPUBLICAN PACK." It was a perfect shot. The members of the press looked at her cargo pants and then at one another. Nobody took a picture.
The profile digs deeply into Bachmann's emergence as a front-runner in the GOP 2012 campaign, and how she's changed some of her personal narratives to make it happen. Lizza also has an entertaining exchange with Bachmann's husband about being called "silver fox" and being called gay:
Marcus Bachmann plopped down on the seat next to me, in the back of the plane. He pointed at my laptop and asked if he could take a look. "All I want to know is what they're saying about me," he said. "Newsweek came up with the word 'silver fox.' Tell me what 'silver fox' means."

"Do you want me to tell you honestly?" I asked.

"Oh, don't tell me it's something gay!" he said. "Because I've been called that before." Marcus is a psychologist who runs a clinic that employs people Michele described in 2006 as "Biblical world-view counsellors," who "reach out and try to bring the medicine of the Gospel to come and heal people."
Have a tip we should know? tips@mediaite.com