'Marry Me Off, I'll Kill Myself': 11-Year-Old Girl's Intense Video About Escaping Arranged Marriage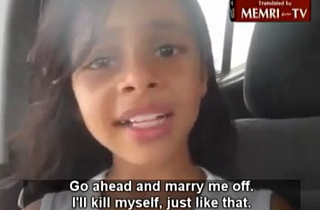 Nada Al-Ahdal is a young girl living in Yemen who has made the rounds on the Internet in the form of a YouTube video where she relates how she escaped from her parents who were trying to force her to become another of Yemen's many child brides.
In the tradition of Malala Yousafzai, this young girl is taking a stand on the misogynistic practice and catapulting the issue onto the worldwide stage. "What about the innocence of childhood?" she asks, saying that children like her have done "nothing wrong" and struggling to find a reason for the practice that nearly changed her life irreparably. "It's not our fault," she continues, also reinforcing one of the many issues with child marriage–the barriers it presents to education for young Yemeni citizens in their fight to lift the nation out of extreme poverty.
In her haunting video by the Middle East Media Research Institute (MEMRI), she acknowledges that while she has escaped with the help of her uncle — twice — other children are not so lucky. In Yemen, there is no legal minimum age for marriage, and little to no action against parents who marry their children off even before "sexual maturity." The practice is driven both by poverty and traditional tribal values, and the effects are stark: the average age of marriage in the country's rural areas is 12 to 13, and the nation has one of the highest maternal mortality rates worldwide. Another factor is the fear that daughters will be kidnaped and forcibly married, prompting parents to look at an early marriage as a better option.
Al-Ahdal had the advantage of a progressive uncle who was willing to stand up against her parents, but as she knows, many others–usually girls–do not escape. Some young brides attempt suicide, as Nada knows, and many others are beaten and raped by much older husbands. In 2010 a case reached the Daily Mail where a 13-year-old bride died of internal injuries, likely brought on by sexual assault, and another 12-year old died after spending three days in labor with a child.
Nada, despite her age, demonstrates familiarity with stories like these. In the most harrowing portion of her video, she even say "I'd rather die" than sacrifice her education and childhood. She also recalls to the audience that her parents did in fact threaten to kill her if she ran away to her uncle — and her message to them is: "Go ahead, marry me off. I'll kill myself."
The young girl's story is inspiring, but the fact remains that, according to the UN and Yemen's government, over 50% of all girls in the country are married by 18, and the practice has been on the rise following the unrest sparked by the 2011 "Arab Spring." Since the unrest, the issue has been placed on the back burner, as Nada's story can attest, but perhaps her video will help pressure the Yemeni government to address the issue once again.
Watch the video below, via YouTube:
Have a tip we should know? tips@mediaite.com