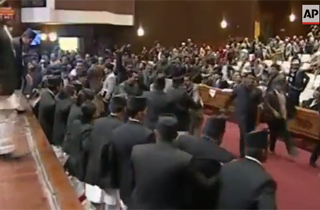 The debate over Nepal's new constitution devolved into a massive Parliamentary brawl today, with representatives throwing microphones and hurling chairs at each other.
Three security guards were injured while attempting to stop the fight, instigated by the minority Maoist party after they disagreed with "several disputed points in the new constitution," according to The Guardian.

"This is their ploy not to let the constitution be prepared in time at any cost," information and the communication minister, Minendra Rijal, said in a statement.
Needless to say, things are pretty tense in Nepal right now, with riots and protests plaguing the small country over a proposal to divide it into federal states. The Guardian explains the tense geopolitical situation:
A new constitution is widely seen as crucial to ending the instability that has plagued Nepal since the end of a Maoist-led civil war in 2006 and settling the republic, nestled between regional powers India and China that jostle to woo a new geopolitical ally.

But it has been thwarted by differences among political parties over how to divide the country into federal states.

The opposition, which includes former Maoist rebels as well as a string of small regional parties, wants to create 10 states and name them after different ethnic and marginalised groups.

The ruling centre-left alliance says Nepal, a country roughly the size of Greece with an economy dependent on aid and tourism, does not have enough resources to support several states, and says the creation of federal units along ethnic lines could spark communal tensions.
It may actually be more intense than the series of Ukranian parliamentary brawls.
Watch below via the AP:
[Image via screenshot]
—
>> Follow Tina Nguyen (@Tina_Nguyen) on Twitter
Have a tip we should know? tips@mediaite.com