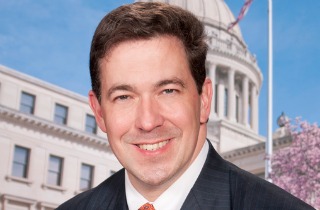 The Mississippi GOP Senate primary refuses to die.
This thing technically ended weeks ago, when incumbent Senator Thad Cochran (R-MS) won a runoff against tea party challenger Chris McDaniel, largely thanks to African-American Democrats who crossed over and voted for Cochran. But McDaniel has refused to concede, claiming electoral malfeasance on the part of the Cochran campaign. In this he's had help from conservative blogger Chuck Johnson, who's offered up to $1,000 for evidence of the Cochran campaign paying people to vote.
Here's where things get muddy. In a Johnson-produced video, self-proclaimed preacher Stevie Fielder said the Cochran campaign had involved him in a pay-to-vote scheme, a video the McDaniel campaign has been touting as evidence to invalidate the primary results. But Fielder quickly recanted that story and told the Mississippi Attorney General Jim Hood he had been offered $2,000 to concoct the story. Hood indicated last week that his office was investigating the allegation.
On Wednesday, Hood's office confirmed to the Clarion-Ledger, which has been all over this story, that Fielder told them the money came from McDaniel staffer Noel Fritsch. When reached by the Clarion-Ledger Fritsch said that Johnson had paid Fielder for the original purpose of obtaining his story against the Cochran campaign.
Everybody appears to agree that Fielder was paid $2,000 for the interview; at issue now is whether that money was to buy his story or invent it, and whether the money came from Johnson or the McDaniel campaign. The Clarion-Ledger reported that Fritsch was in possession of the disputed recording of Fielder before it was posted by Johnson.
This is hardly the McDaniel campaign's only problem; it also faces fallout over a potential FEC violation and a PR mess stemming from a press release yesterday — in addition to having not actually won the primary. Meanwhile, this is not Johnson's first story that has involved a source withdrawing a claim; a similar incident occurred on a story he reported with Matt Boyle for the Daily Caller about Senator Robert Menendez (D-NJ), in which several women who claimed Menendez had paid them for sex later recanted their claims.
[h/t Clarion-Ledger]
[Image via Chris McDaniel]
——
>> Follow Evan McMurry (@evanmcmurry) on Twitter
Have a tip we should know? tips@mediaite.com