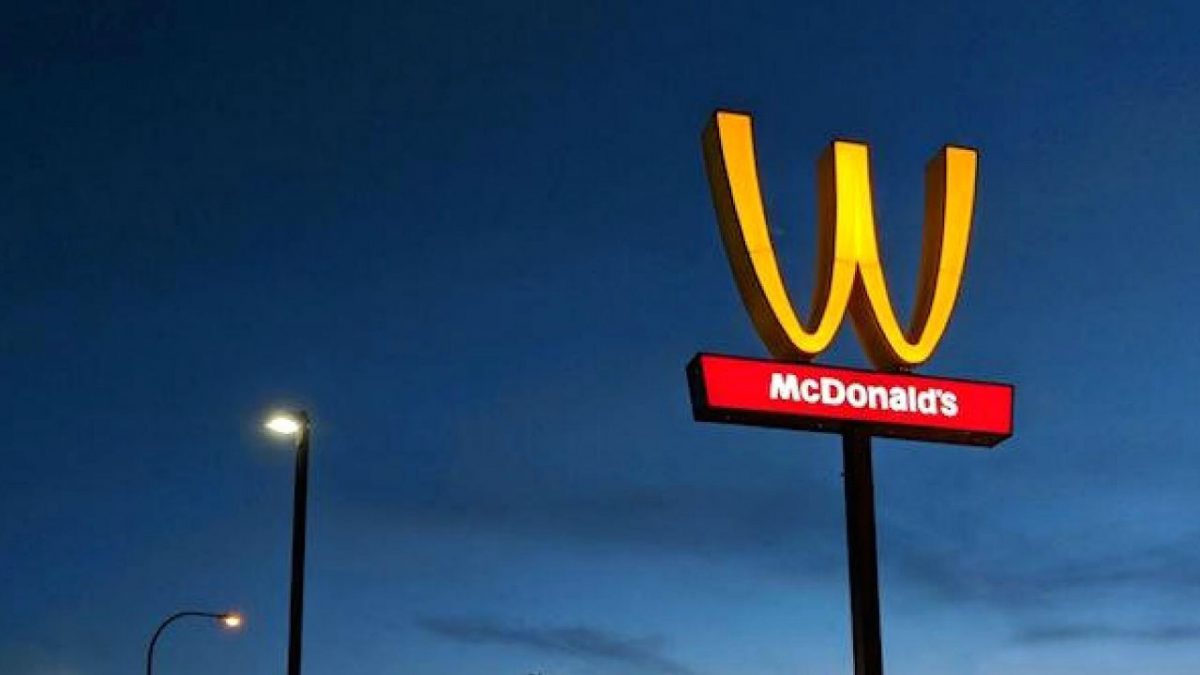 A west coast McDonald's has flipped their iconic golden arches upside down in the name of feminism.
The chain's restaurant in Lynwood, California opted to change their "M" to a "W," as the company announced it was doing so in "celebration of women everywhere," since Thursday marked International Women's Day amid a month of the same theme.
The employee behind the change was Patricia Williams, the franchisee, and she was not alone in the celebration. Per Business Insider, the corporation announced it will add special content to their social media pages, while 100 McDonald's locations will tout pro-women themed "packaging, crew shirts and hats, and bag stuffers" on Thursday
"In celebration of women everywhere, and for the first time in our brand history, we flipped our iconic arches for International Women's Day in honor of the extraordinary accomplishments of women everywhere and especially in our restaurants," said Wendy Lewis, who works as McDonald's global chief diversity officer. "From restaurant crew and management to our C-suite of senior leadership, women play invaluable roles at all levels, and together with our independent franchise owners, we're committed to their success."
As for the reaction to the flipped arches, the feeling was mixed on social media. Some praised or laughed at the change, but others slammed it as a feeble attempt at feminism in an era when so many industries are under fire for the continual mistreatment of women in the workplace:
Love to be an empowered woman https://t.co/pARoBvqvrc

— Stassa Edwards (@StassaEdwards) March 7, 2018
Hey @McDonalds, maybe instead of a cheap PR stunt where you make the M a W to "support" women, you do something real — like paying your workers a living wage. https://t.co/xoOHRvSQdx

— Nate Lerner (@NathanLerner) March 7, 2018
McDonalds: In celebration of women we are flipping the arches upside down.

Or you could give your employees better benefits.

McD: Look it's a W!

Maybe a living wage? Better family leave? A career path forward in the face of automation?

McD: The W stands for women.

— bogwolf (@truebe) March 7, 2018
Probably sucks to be The Onion these days with so much competition https://t.co/oUqiZyQwZQ

— Haley Byrd (@byrdinator) March 7, 2018
McDonalds is going wumbohttps://t.co/4fvItX8wXp

— Sarah Schauer (@SJSchauer) March 7, 2018
This is so dumb. https://t.co/rG9e0N7HUL

— Kassy Dillon (@KassyDillon) March 7, 2018
Thank goodness! I thought the "M" stood for "man" and that @McDonalds was oppressing me! #RESIST https://t.co/D78GO1jqkd

— Kylie Thomas (@kylie_thomas) March 7, 2018
[image via McDonald's]
Follow the author on Twitter (@calebecarma).
Have a tip we should know? tips@mediaite.com