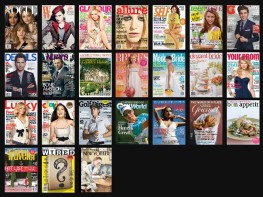 At this point the question may be less about how terrible McKinsey's suggested cuts at Condé Nast are going to be, than will Condé Nast employees survive the weeks-long speculation about their future without succumbing to some sort of nervous breakdown.
As the media world awaits the official word (i.e. layoff news) from McKinsey's summer-long interrogation — rumored to arrive sometime in mid-October — both Crain's and the New York Observer are reporting that 25% budgetary cuts across the board are the budget targets currently being delivered to editors and publishers in the form of "McKinsey binders…complete with pie graphs and charts." And by across the board we mean everyone but The New Yorker which is officially exempt from McKinsey due to some smart thinking in recent years. From the Observer:
"They're not being specific," said one source about the meetings. "You get to it however you get to it."

In other words, there won't be any meddling, line-by-line suggestions. If you want to chop heavy from your expenses, go for it. If you want to cut freelance, up to you. (As Mr. Townsend told us in an interview a few weeks ago, "I can boil what I say to editors and publishers down to the simplest statement in the world and that is: You, not me, you have a responsibility to run this business in a responsible way. It's your responsibility. I want to see your proposal of how you're going to do it.")

But with at least a quarter of the budget getting slashed, layoffs are now seen as inevitable.
Have a tip we should know? tips@mediaite.com