Media News Blogger and Aggregator Extraordinaire Jim Romenesko Says He's Ready To Retire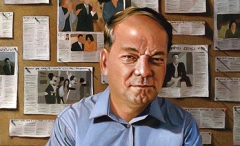 Accolades are flowing this afternoon in the wake of king among media bloggers Jim Romenesko's announcement that he plans to retire in the new year. The media news and aggregation pioneer says he's leaving his helm at Pontyer Institute after 12 years for his very own JimRomenesko.com, where he hopes to do less aggregating and more reporting under the tagline, "A blog about media … and other things I'm interested in."
He will continue posting occasionally to his namesake media-news blog, which will be maintained and revamped by other Poynter staffers. One such staffer suspects this casual engagment could amount to "several posts a day." Once a media junkie, always a media junkie. And anyway, we're all happy to keep him.
Giving Huffington Post's Michael Calderone the exclusive, he sounds humble as ever in regards to his future. "I always thought that in my retirement, I would just do a hobby site on my own, and I guess that's what JimRomenesko.com will be," he says, shrugging at the temptation to sell his empire in the manner of Deadline's Nikki Finke or MediaBistro's Laurel Touby.
Interestingly, he feels that his role at Romenesko, where he more or less invented aggregation with his comprehensive flash-updates, is perhaps passé. Once "the journalism community's town crier," he thinks his job has since been taken over by eager twitterers. "There are a million town criers out there," he says. But maybe he's just being modest again.
After revolutionizing the field of blogging, he has more than earned the opportunity to step away from Twitter for long enough to report, maybe even on something that's not the media. And he's not going far. It does, however, feel like the end of an era for those of us who have grown used to being kept on our toes with his near constant reports. The first thing my old media-crit professor ever said to me was, "I hope you're getting Romenesko emails." A nervous college freshman, I ran home after class to Google what a "Romenesko" was, and have proudly counted myself as one of many, many devoted believers and subscribers ever since.
Have a tip we should know? tips@mediaite.com