Mediaite Interviews Piers Morgan On Politics, The American Dream, And Why His Show Isn't The Today Show
Mediaite Interviews Piers Morgan On Politics, The American Dream, And...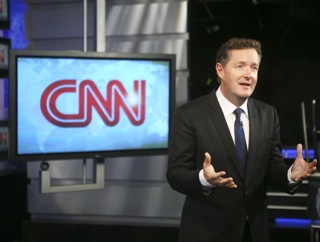 Like many mornings, Piers Morgan's day in the news on Tuesday began with a spat. Today, the media plaintiff is 80s teen icon turned conservative pseudo-activist Kirk Cameron—the same one who objected to homosexuality as "unnatural, detrimental, and ultimately destructive to… civilization" on Morgan's program a while ago. Cameron is blaming Morgan for his own comments, a sort of protest the host has little patience with. Noting that, as a Catholic himself, "it wasn't a question of me berating him as a Christian because I am a Christian myself," he concludes Cameron "dug his own grave" and his gripe is "ridiculous."
There is a not-so-obvious link between the Cameron disagreement– a comparatively tiny aside in the greater story of Piers Morgan Tonight— and the host's increasingly common forays into American politics for CNN, both in his own program and on special election night coverage. That Morgan had the foresight to even ask the question of a sitcom star Americans fell in love with decades ago, and to know viewers would care before even the viewers themselves knew, is the sort of unorthodox and invaluable insight Morgan brings to a political team. Morgan's strengths as an observer of American politics in such a culturally-charged presidential election season have forced both his program itself and the larger CNN election night broadcasts to evolve to fit that skill. More than a year into his stint at CNN, Morgan has expanded his reach in the network from celebrity interviewer to bona fide political and cultural analyst in a way that took many who knew of him only as "that guy from America's Got Talent" by surprise.
He himself is not surprised that he ended up here. "I've always had a great interest in American politics and I was a newspaper editor for eleven years in Britain of a major daily newspaper," he explains. "So I had amazing access, for example, to former Prime Minister Tony Blair. I had—I counted for my book—56 one-on-one meetings with him, so I'm not exactly politically naive." His work in UK media led him towards a fascination with American politics that resulted in a diary, God Bless America, focusing in large part on the 2008 election.
"Some CNN viewers say, 'what would we care what a pop star thinks of this?' I would say, 'they're Americans, too.'"
Guests like Bill Maher, New Jersey Governor Chris Christie, and the assorted cast of 2012 Republican primary candidates give him the clearest avenue to channeling that political experience, though he also credits the many huge news stories breaking in 2011 with the chance to show his journalistic credentials to a new audience. But Morgan excuses no guest from answering difficult cultural and political questions on his program, particularly because he takes the democratic nature of American society so seriously. "My view is, you come on CNN, you've got to be expected to answer tough questions," he says. "We're not the Today show, we're not Rachael Ray—and I like both those shows— but we are a different animal. We are the leading news network in the world, and to me, every guest should be able to answer questions about news events and what goes on in the news cycle. If you don't want to do that, go on a show where you won't be intellectually challenged."
NEXT PAGE: "He was political, funny, outrageous, inspiring, moving, and he's Morgan Freeman!"
Have a tip we should know? tips@mediaite.com