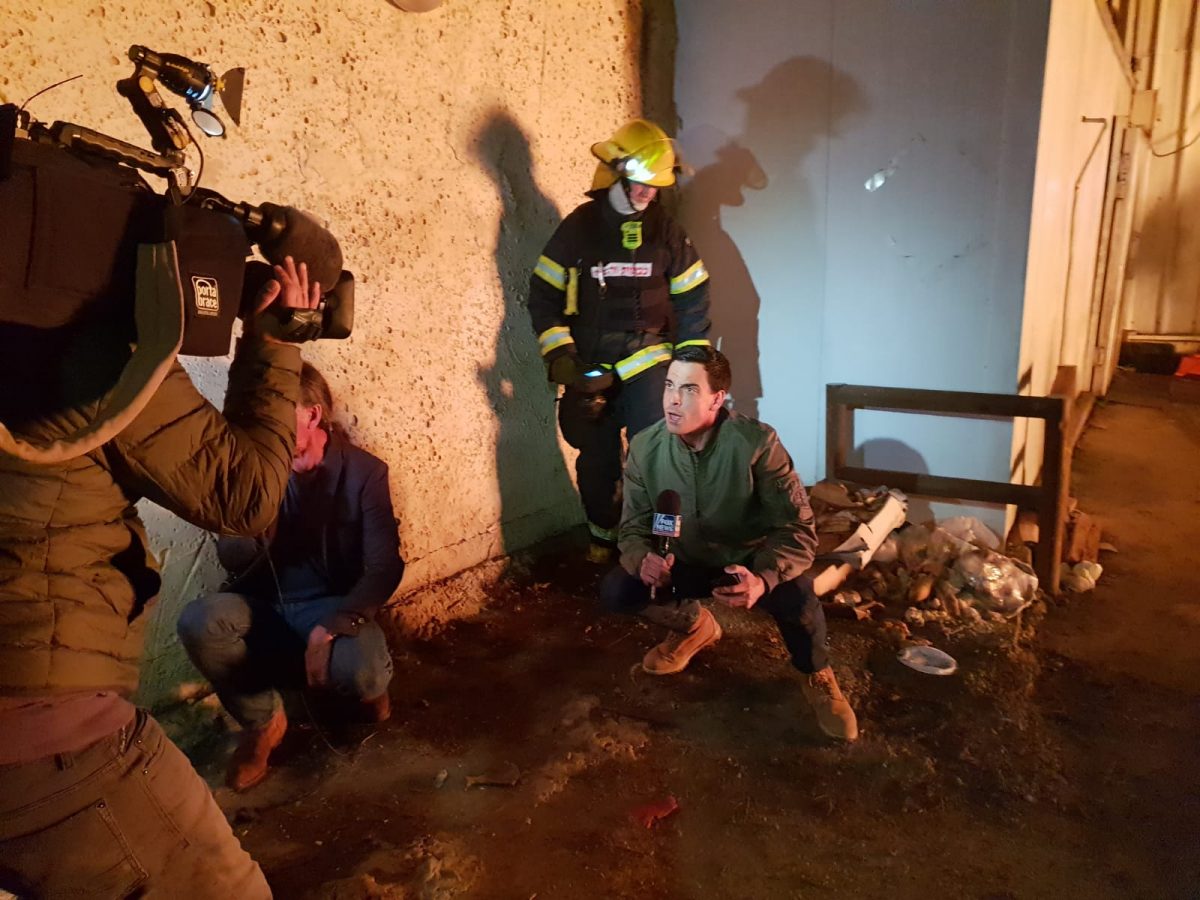 What is life like for an American journalist living abroad in the middle of one of the most volatile regions in the world?
I spoke with Fox News foreign correspondent Trey Yingst, who is based in Jerusalem, about his experience living in the Middle East and covering everything from the Palestinian-Israeli conflict with rockets flying over his head to the upcoming Israeli elections.
This Q&A initially ran in Mediaite's daily newsletter, which you can sign up for here.
Talk a little bit about the most recent developments — Tel Aviv was targeted with rockets last week; weekly protests at the Israel/Gaza border.
"Last week two rockets were fired from the Gaza Strip towards Tel Aviv for the first time since the war in 2014. This set off a chain reaction that nearly sent the region into another major conflict. Our crew headed straight to the border and as we prepared for live shots we could see Israeli airstrikes pounding the Gaza Strip. In response, more rockets were fired into southern Israel. Our cameras captured Israel's missile defense system, the Iron Dome, intercepting those rockets overhead.
Next week is the one year anniversary of border demonstrations for Palestinians living in Gaza. In the past year, Gazans have gathered every Friday, except one, to protest the Israeli blockade on the Gaza Strip. We are there most weeks as some demonstrators are throwing IEDs and Grenades at Israeli troops, while the Israeli troops fire live ammunition and teargas towards the Gazans. There are also normally demonstrations on Tuesday at the beach in Gaza. Residents in Gaza live with four hours of electricity a day, limited access to clean water and high rates of unemployment, so many people there have nothing to lose."
You transitioned from being a White House correspondent in D.C. to picking up your life and moving to Israel to be a foreign correspondent. What are some of the differences in your approach as a journalist? How has your experience been abroad?
"Covering the Trump White House certainly prepared me for this job. Like in Washington, things change very quickly here and you have to be ready to adapt. I've had rockets fired overhead in the middle of a live shot, grenades explode behind me and interviews with groups that are considered by the United States to be terrorist organizations. My approach as journalist hasn't changed though. My goal every day is to bring viewers a fresh, objective and accurate story.
I'm thankful to work for a company that supports me in doing old fashioned journalism. We have an incredible team here in Jerusalem that works closely with our offices in New York and DC to get the latest information in the safest way possible."
What is your favorite part about living in Israel? What is your least favorite?
"I'm really passionate about the work I'm doing here. It doesn't matter if we are on Shep's show, Bret's or Hannity's, we just do the news. Also it's important to note that we aren't just covering the Israeli/Palestinian conflict. From our bureau in the Middle East, we covered the Ethiopians airline crash, the conflict between India and Pakistan, developments from Iran and so much more. We are an international bureau and our location gives us a unique ability to cover stories around the world.
Personally, I really enjoy living here. I always wanted to be a foreign correspondent and I wake up every day living my dream. There is so much history here and I sometimes feel like I am living inside a giant museum.
My least favorite part? I honestly don't have one. I miss my friends and family, but try to keep in touch with them as much as possible. I hope to make it back for the WHCA dinner this year to see everyone."
Israel's national elections are happening next month. How does election coverage in Israel differ from election coverage in the U.S.?
"The next month is going to be filled with election coverage, the one year anniversary of the protests in Gaza and likely the roll out of the Trump administration peace plan for the Middle East. It could certainly be a flashpoint for the region or an opportunity to move forward in a new direction.
Elections here are really complicated and the whole system is different from the United States. I try to spend an hour each day reading about how things work and getting up to speed on the political parties, so I'm prepared for our coverage in April. My producers also set up off-the-record meetings for me with key political figures to keep me up to date on the election cycle."
Have a tip we should know? tips@mediaite.com