Mediaite Morning Reading List: New NSA Revelations, Unexpected Economic Growth, and More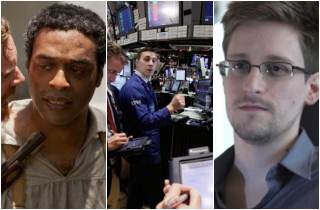 Every a.m., Mediaite publishes a primer of what the interweb machine is writing, talking, tweeting, and blogging about, so that you may fool friends and family into thinking you are a trove of information and insight. Today: new Snowden revelations about your precious smart phone, unexpectedly strong economic growth, and a fascinating, urgent debate on the conservative movement, slavery, and Barack Obama.

"NSA Tracking Cellphone Locations Worldwide, Snowden Documents Show" (Barton Gellman and Ashkan Soltani, Washington Post)
Edward Snowden may have fallen a few spots in TIME's Person of the Year poll, but the trove of data he swiped from the National Security Agency is still paying dividends. Washington Post's Barton Gellman reports that the NSA is gathering up to 5 billion records on cell phone locations a day. As you should expect by now, the agency is not explicitly targeting American citizens, but a bunch get caught "incidentally." The program is called CO-TRAVELER, and the theory is that suspects' movements can be tracked by tracing how their cell phone data intersects with other devices:
Location data, especially when aggregated over time, are widely regarded among privacy advocates as uniquely sensitive. Sophisticated mathematical tech­niques enable NSA analysts to map cellphone owners' relationships by correlating their patterns of movement over time with thousands or millions of other phone users who cross their paths. Cellphones broadcast their locations even when they are not being used to place a call or send a text message.
This creates enormous privacy concerns, as simply owning a device allows the NSA to collect data on it, even if you're not using it.
"Financial News: Jobless Claims in U.S. Unexpectedly Decrease to Two-Month Low" (Jeanna Smialek, Bloomberg) / "GDP Surges on Big Build Inventory" (Matthew Boesler, Business Insider)
You, seasoned news reader, know to take all financial news with dismal grains of salt: weekly or monthly reports often comprise preliminary numbers and could reflect isolated factors that normalize over time or are corrected by later data; a report that reads like huge news one week could be canceled out the next, and so on.
Howevs, the combination of a two-month low in jobless claims and an unexpected growth in Q3 GDP is nothing to sneeze at. Jobless claims fell 23,000, the biggest drop since labor day, and recent numbers overall are consistent with steady gains in employment. (Caveat: the changes in hiring practices during holiday season can distort the figures.) Meanwhile, GDP growth for the third quarter was 3.6%, well above the 2.8% projected by economists.
Of course, because the stock market makes sense, it dropped after the twin announcements over worries that unexpectedly strong growth will cause the Fed to curb stimulus.
Pro and Con: "12 Years a Slave and the Obama Era" (Jonathan Chait, New York) / "Chait-Crime" (Quin Hillyer, National Review)
There's a full-on fight going on between liberal New York columnist Jonathan Chait and conservative National Review editor Quin Hillyer over the "residue" of racial animus from slavery and its presence in the conservative movement.
The battle started on Twitter, but leapt into long form yesterday with Chait's column drawing a line from the brutish overseer in 12 Years a Slave—appalled that a slave refuses to prostrate himself beofre a white man—to the racially-encoded criticism of President Obama:
You can accept the most benign account of his thought process – and I do – while still being struck by the simple fact that Hillyer finds nothing uncomfortable at all about wrapping himself in a racist trope. He is either unaware of the freighted connotation of calling a black man uppity, or he doesn't care. In the absence of a racial slur or an explicitly bigoted attack, no racial alarm bells sound in his brain.

The broad social structure of white supremacy is not a part of the working conservative definition of racism. Conservatives see racism as a series of discrete acts of overt oppression. After slavery had disappeared, but before legal segregation had, conservatives considered it preposterous to claim that blacks suffered any systematic disadvantage in American life…
Hillyer, needless to say, did not take kindly to Chait's piece linking him via analogy to a slaveowner, and defended both himself and conservatism at length:
What on a personal level is the most tendentious sentence in Chait's column also probably happens to be, alas, quite true on another level: "Most African-Americans, and many liberal whites, would read [my NRO passage] as a cultural heir" to the brutal overseer described above. Therein lies the problem. Far too many black Americans and liberal whites really do assume that racism is lurking in every conservative heart. It's not merely a political tactic to put us on the defensive (although surely some demagogic politicians know they are spewing bilious rot when they make such accusations); instead, much of the Left really has convinced itself the accusations are true.

[…] Well, if he wants to accuse us of not hearing alarm bells that shouldn't exist in the first place, conservatives must plead guilty. It is leftists, not conservatives, who are obsessed with race.
Substantive debate! Read both pieces and then use your smart phone to share them so the gummiment knows where you are.
[Image via AP, Fox Searchlight]
——
>> Follow Evan McMurry (@evanmcmurry) on Twitter
Have a tip we should know? tips@mediaite.com