Megyn Kelly Grills Jorge Ramos on 'Neutrality' Claims: Do You Disclose Your Daughter Works For Clinton?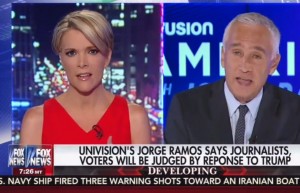 Univision and Fusion anchor Jorge Ramos wrote this week that for journalists covering the 2016 election, "neutrality is not an option" when it comes to objectively covering the campaign of Donald Trump.
In an op-ed published on Tuesday in TIME Magazine, Ramos argued, "It doesn't matter who you are — a journalist, a politician or a voter — we'll all be judged by how we responded to Donald Trump." Ramos sat with Fox News' Megyn Kelly Thursday to further discuss his approach to the unique state of journalism in 2016.
"You did it — that first debate… you took a stand," he said to Kelly, referring to the infamous exchange where the Fox anchor called Trump out for his previous language regarding women. Kelly balked at the suggestion that the moment in question was he injecting her opinion, however, but rather just asking a tough question.
"Is that what you're advocating — that we as journalists should inject our opinions?" she asked.
"I do know what's coming out of his mouth," Ramos said of the GOP nominee. "When he said that a judge simply because of his Hispanic heritage can not be part of a case simply because of his heritage, that's a racist remark," referring to Judge Curiel of the Trump University case.
Kelly however called out Ramos a bit, asking if he discloses the fact that his daughter Paolo Ramos has "a working position," within the Hillary Clinton campaign whenever he covers an aspect of the election.
"Is this personal for you, in that way?" she pressed.
"I've disclosed that many, many times… in other words, that's [Paolo's] decision, and I have absolutely nothing to do with that," Ramos concluded. Ramos notes that he had published a note on the Univision website identifying the younger Ramos' connection to Clinton. "We maintain that, in part, through transparency with our audience, our colleagues and our critics," he wrote in June on the matter.
—
[image via screengrab]
Have a tip we should know? tips@mediaite.com