Megyn Kelly Corners Assange Over Recent Claims: 'Why Are You So Interested in Seth Rich's Killer?'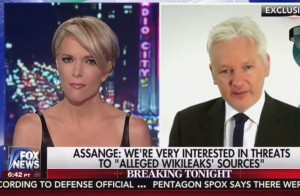 On Thursday night, Fox News aired its second part of the interview between Megyn Kelly and Julian Assange, with the former pressing the Wikileaks founder about recent claims on interest into the mysterious death of Seth Rich.
Seth Rich was a 27-year-old staffer for the Democratic National Committee who was gunned down shortly after 4 a.m. under suspicious circumstances this summer in Northwest DC. The circumstances surrounding Rich's death have spurred conspiracy theories online, with many believing that the young staffer could have been leaking information to the FBI regarding the Clinton family.
"Why are you so interested in Seth Rich's killer?" Kelly bluntly asked her guest Thursday.
Assange responded, "We're very interested in anything that might be a threat to Wikileaks' sources… we're not saying that Seth Rich is necessary connected to our publications. "
Kelly pressed further, "Do you have any suspicions on who may be have been behind his murder?"
The Wikileaks founder said to Kelly, "We have received information… we don't want to compromise the investigation," coyly.
It's a theory that Assange himself slyly danced around recently during an interview with a Dutch television program. "That was just a robbery I believe, wasn't it?" asked the host for clarification.
"No, there's no finding," he said simply at the time. I'm suggesting that our sources take risks and they become concerned to see things occurring like that."
Was Seth Rich, the source of #DNCleaks, murdered? https://t.co/bKwYQJcmQp

— Mike Cernovich (@Cernovich) August 10, 2016
Assange and Wikileaks offered $20,000 in exchange for information regarding the shooting death of Rich.
Watch the above interview via Fox News.
—
[image via screengrab]
Have a tip we should know? tips@mediaite.com