Megyn Kelly Passes The Network Interview Test As Anti-Trump Critics Predictably Pounce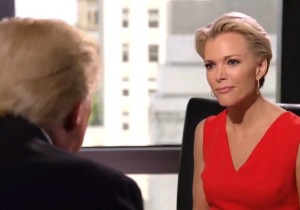 The much-hyped sit-down interview between the host of the Kelly File and the presumptive GOP nominee went down on the Fox-TV last night.
According to early Nielsen returns, Megyn Kelly Presents was up 140 percent compared to Fox TV's audience in the same timeslot last week, averaging 4.8 million viewers from 8:00-9:00 PM EST last night. Presents also finished with a 26 percent increase in the key 25-54 demo over last week's offering (New Girl) but still finished 5th in this category. Note: Competition was stiff yesterday evening, with NBC's highly-rated The Voice finishing second and the CBS season finale on NCIS easily winning the night. From a social media perspective, Presents ranked second in Twitter mentions, finishing behind The Voice but ahead of the NBA Draft lottery.
Context: Given this special was essentially a brand new offering to a different kind of audience on a network not known for anything resembling a news magazine program, this is about what one would have expected from a numbers perspective. Note: Brands take weeks, months, even years to grow on television. And when sticking a special into a slot with a genre basically non-existent on that channel, the first foray in isn't going to win the day (or in this case, night).
In total viewers, this was second largest audience for a Tuesday night telecast on Fox this year, only behind a special episode of American Idol in April that drew almost 6 million. So despite the big hype… if the goal was to hit a single, which is what Kelly stated it was before it aired, that goal was accomplished.
As mentioned in this space on Sunday, the focus here was on the host's presentation in the context of her ability to do a network interview on a high-level, which is decidedly different from the always-feels-rushed-"sorry-I-gotta-go-we're-out-of-time" cable news version. For the purposes of Mediaite readers (who are more interested in the political stuff) we'll tackle the Trump portion first.
There are a few predisposed critics this morning — the kind who almost certainly won't be voting for Trump — who are lambasting Kelly's approach here as she attempted to peel the onion off of Trump's emotional wall. From this perspective, it wasn't done to make Trump look good as some are blindly asserting, but to give the viewer something they didn't know about him before. And if you believe Megyn Kelly is all about gaining acceptance from anyone instead of strengthening her personal brand (in this case, showing range in relatively unfamiliar territory), you haven't been paying attention.
These same critics wanted the host to — among other things –hammer the candidate on his fluid policy positions: Immigration, taxes, foreign affairs, abortion rights, etc. But that wasn't what a network audience — much less in tune with this kind of stuff — are really interested in. Kelly appeared to be keenly aware of this going in and instead, to list a few examples, went after Trump on his bullying, the emotional toll he may be having on those he attacks (without mentioning herself), and the Heidi Cruz and Carly Fiorina comments about their appearance. Trump shooed away the topic, stating that while he could have used different language, the ends justified the means. "I'm very happy with the outcome," he said.
Takeaway: Trump also knows his brand and is a marketing genius. Hate him or love him for his positions or attitude, but given the media attention he commands, this isn't even up for debate. Some will argue Trump should have opened himself up more emotionally in an effort to be more human and less unapologetic… to show he has his pain points as well. But his brand is an image of strength (whether you buy it or not is in the eye of the beholder) and he wisely isn't budging much on that as polls continue to show him — despite everything that's been said and done over the past 11 months — in a dead heat with Hillary Clinton.
So was I surprised by Kelly's questions? On a few occasions, yes. In an effort to offer something different and more in line with the genre, she probed him on topics I hadn't heard asked of him before in this election cycle, including asking him twice on if he had ever been hurt by someone emotionally. He first responded by broaching his brother's death, who died of alcoholism, before the interviewer pressed him again, eventually leading to this answer:
"When I am wounded, I go after people hard, O.K.?" he said. "And I try and un-wound myself."
Those in media who loathe Trump — and there is an overwhelming amount — wanted the Roman Coliseum last night, with Kelly as the female version of Russell Crowe's Maximus and Trump as the arrogant (illegitimate) Emperor Commodus (Joaquin Phoenix). They wanted blood. Kelly — in their partisan eyes — was supposed to badger Trump into losing his cool, storming off the set and going on a Twitter rant for the next 170 days against her until Election Day. And not because that would constitute good journalism or the type of human interest interview a Barbara Walters-esque network setting like this invariably calls for, but because it would hurt a hated candidate.
Hollywood Reporter: Megyn Kelly and Donald Trump Kiss and Make Up in Her Primetime Special
Slate: Megyn Kelly Embraces Donald Trump in a Disgusting, Fawning Interview
Politico: Megyn Kelly doesn't exactly grill Donald Trump
Los Angeles Times: Megyn Kelly goes too easy on Donald Trump in her Fox infomercial, er, special
Takeaway: To even attempt to expose whatever personal side Trump tends to shield from the public, this was seen as a sin for which they'll never forgive Kelly for. And as for all that positive press she received to this point from those normally suffering from FDS (Fox Derangement Syndrome)? Well, obviously say bye-bye to that because she no longer serves their purpose. The same thing happened to Michelle Fields, whose charge against Corey Lewandowski was dropped and therefore quickly forgotten by all those in media standing by her because she was no longer useful.
As for the rest of the special being largely overlooked because of the constant focus on Trump, we learned a few things there we didn't know before as well…
Example 1: What did Simpson say to Dream Team member Robert Shapiro after he hearing the not guilty verdict? "You had told me this would be the result from the beginning," Simpson whispered to Shapiro. "You were right." What's the big deal about landing Shapiro? He hasn't done any interviews about the O.J. case in more than two decades. Nice get and relevant coming on the heels of the cheesy-but-mesmerizing FX series on the Trial of the Century.
Example 2: Laverne Cox's reaction to Kelly broaching her suicide attempt at age 11″: "I didn't know we were going to go there!" Conversation was that of what would be overheard at a happy hour from there.
Example 3: Michael Douglas on being undergoing treatment for Stage 4 throat cancer the same year his son was sentenced to federal prison for heroin possession: 'It broke my heart, the combination. When he was sentenced, I knew the amount of time he was going to be spending in federal prison combined with my early cancer at the same time.'
Bottom line: Nobody has picked up the mantle — and its a big one — for Barbara Walters since her retirement. It's no accident Bill Geddie — Walters' former producer — was responsible for last night's special. The theme of last night was reminiscent of the tone, tenor and almost psychoanalytical approach of one Howard Stern, who's by far the best interviewer in the business regardless of medium (listen to his Bill Murray, Lady Gaga or John Cusack interviews if you want a clinic on how to conduct the perfect interview).
So will Kelly leave Fox News after her contract is up? Last night leads me to a more definitive answer: No… if she shares the same perspective as this one:
As mentioned, Fox-TV is mostly-uncharted territory from a news magazine perspective (or news perspective for that matter outside of Fox News Sunday with Chris Wallace). There is zero competition for airtime. If Kelly were to go to ABC, she's competing for air time with others at the network if being on daily is the goal. Could she share a set with five others on GMA? Doesn't that scenario diminish her value? CBS seems like the best option with a 60 Minutes correspondent carrot for Les Moonves to dangle, but that would likely entail getting up at 3:00 AM five days a week to join CBS This Morning. Having three young children may make that aspect a non-starter.
But Fox News and Roger Ailes can give her the frontier that is Fox-TV. And she already has a two-year deal inked with 21st Century Fox to co-produce a White House drama with Kevin Spacey. If she goes elsewhere, she competes for time and a voice. She stays at Fox, she gets to keep her own show (which she could cut down hosting to four nights per week to ease the weekly grind) and can forge a news magazine path for Fox-TV. And as we saw last night, getting big guests doesn't appear to be any issue. New prediction: She stays.
Most of those in the political bubble wanted war. They got a solid network interviews instead. Megyn Kelly passed her biggest job interview if doing more of these specials in broadening the brand is the goal. This was not a Sunday political program like Meet the Press. This was not a cable news interview, either. This was network news magazine presentation, and the pitch and questions were more than appropriate.
It all may be a mute point. She'll hear what CBS, ABC and NBC have to say, sure. Speculation will be rampant. Numbers in term and salary will go up as a result.
But in the end, get used to at least a few more years of The Kelly File and Megyn Kelly Presents.
If she sees the potential, if she values brand over grudges, she ain't going anywhere.
— —
Follow Joe Concha on Twitter @JoeConchaTV
This is an opinion piece. The views expressed in this article are those of just the author.