Meryl Streep Jokes About Trump Slamming Her: 'I Am the Most Overrated Actress'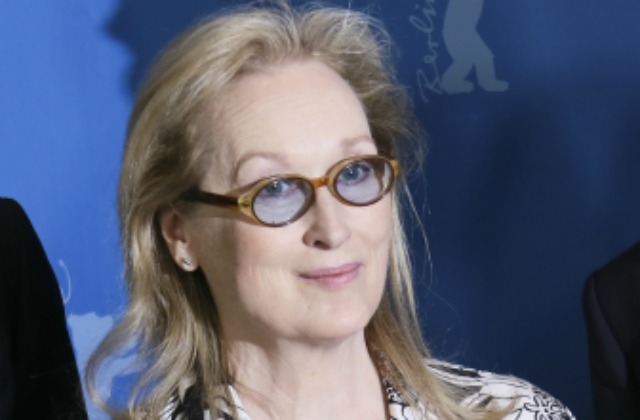 Last night Meryl Streep responded to President Trump's Twitter snipe towards her in a speech to the Human Rights Campaign gala in New York last night.
Streep received an award at the gala last night and, according to The Hollywood Reporter, she addressed her now-infamous Golden Globes speech and the president's response to it.
One of the criticisms she received for the speech was an apparent diss at football and mixed martial arts, but last night she said that she does enjoy football.
Streep joked a bit about the president in referring to herself as "the most overrated, overdecorated and, currently, over-berated actress, who likes football, of my generation."
But Streep also got serious in talking about what she fears from the Trump administration:
If we live through this precarious moment, if his catastrophic instinct to retaliate doesn't lead us to nuclear winter, we will have much to thank our current leader for. He will have woken us up to how fragile freedom is. His whisperers will have alerted us to potential flaws in the balance of power in government. To how we have relied on the goodwill and selflessness of most previous occupants of the Oval Office. How quaint notions of custom, honor and duty compelled them to adhere to certain practices of transparency and responsibility. To how it all can be ignored. How the authority of the executive, in the hands of a self-dealer, can be wielded against the people, their Constitution and Bill of Rights. The whip of the executive, through a Twitter feed, can lash and intimidate, punish and humiliate, delegitimize the press and imagined enemies with spasmodic regularity and easily provoked predictability.
She acknowledged that speaking up "sets you up for troll attacks and armies of brownshirt bots and worse," but she encouraged people to keep speaking and to stand up for the rights of others.
[image via Denis Makarenko/Shutterstock]
— —
Follow Josh Feldman on Twitter: @feldmaniac
Have a tip we should know? tips@mediaite.com
Josh Feldman - Senior Editor