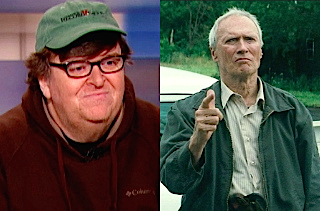 Does this explain why Michael Moore has been so critical of American Sniper? In a long Facebook post Thursday night, the filmmaker recounted the time 10 years ago this month that Clint Eastwood allegedly threatened to kill him.
As Moore tells it, "Ten years ago this past week, Clint Eastwood stood in front of the National Board of Review awards dinner and announced to me and to the crowd that he would 'kill' me if I ever came to his house with my camera for an interview."
Eastwood was likely referring to the scene in Moore's documentary Bowling for Columbine in which the director confronted an elderly Charlton Heston about his role as head of the National Rifle Association.
"I was a bit stunned to hear Eastwood, out of the blue, make such a violent statement," Moore wrote. "But I instantly decided he was just trying to be funny, so I laughed the same nervous laugh everyone else did. Clint, though, didn't seem to like all that laughter." According to Moore, Eastwood repeated, "I mean it. I'll shoot you."
Read the full post below:
Moore also pointed to a Salon article posted this week that referenced the 2005 incident along with Eastwood's infamous 2012 RNC speech delivered to an empty chair as evidence of the director's political agenda with the film.
After listing off various other death threats — joking and not — he has received over the years, Moore concluded with this message:
Needless to say, this kind of thing wreaked all kinds of havoc in my life because of what this hate-speech does to inspire the more deranged among us.

This past week or so of hysterical attacks on me only proves that the American lovers of violence and the issuers of fatwas in OUR society haven't gone away. They are our American Isis – "Criticize or mock those whom we deify, like our sainted sniper, and we will harm you most assuredly."
Unfortunately, the 2005 confrontation happened before the age of cell phone cameras and YouTube, so we do not have video evidence to reveal the tone of Eastwood's remarks to Moore. But we do have a report filed at the time by the New York Daily News.
According to that article, Moore representative said of the incident, "Michael laughed along with everyone else, and took Mr. Eastwood's comments in the lighthearted spirit in which they were given."
[Photo via screengrab]
— —
>> Follow Matt Wilstein (@TheMattWilstein) on Twitter
Have a tip we should know? tips@mediaite.com