Oscar-winning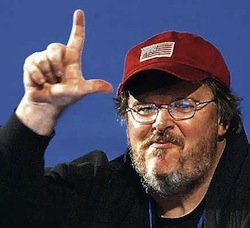 documentarian and lefty rabble-rouser Michael Moore has penned a blog post on the progressive Alternet insisting that Donald Trump is currently sabotaging his presidential bid because he never wanted the Oval Office in the first place.
The whole campaign had begun as a tactic to give him leverage in ongoing negotiations with NBC over his Apprentice deal, Moore claims.
"I know this for a fact," he writes, though cites no sources.
"I'm certainly not saying I ever overheard anything at those agencies or in the hallways of NBC or anywhere else. But there are certain people reading this right now, they know who they are, and they know that every word in the following paragraphs actually happened," he adds.
Moore's argument is that a campaign that was never meant to be politically credible but was intended to boost his business brand ended up doing the exact opposite, much to Trump's suprise. NBC promptly severed their relationship with Trump over his inflammatory remarks last June and meanwhile his poll numbers soared.
Moore continues:
Calling Mexicans "rapists" should have disqualified him on Day One (or for saying Obama wasn't born here, as he did in 2011). No, it took 13 months of racist, sexist, stupid comments before he finally undid himself with the trifecta of attacking the family of a slain soldier, ridiculing the Purple Heart and suggesting that the pro-gun crowd assassinate Hillary Clinton. By this past weekend, the look on his face said it all—"I hate this! I want my show back!" But it was too late. He was damaged goods, his brand beyond repair, a worldwide laughing stock—and worse, a soon-to-be loser.

But, let me throw out another theory, one that assumes Trump isn't as dumb or crazy as he looks. Maybe the meltdown of the past three weeks was no accident. Maybe it's all part of his new strategy to get the hell out of a race he never intended to see through to its end anyway. Because, unless he is just "crazy," the only explanation for the unusual ramping up, day after day, of one disgustingly reckless statement after another is that he's doing it consciously (or subconsciously) so that he'll have to bow out or blame "others" for forcing him out. Many now are sensing the end game here because they know Trump seriously doesn't want to do the actual job—and most importantly, he cannot and WILL NOT suffer through being officially and legally declared a loser—LOSER!—on the night of November 8.
—
Sam Reisman (@thericeman) is a staff editor at Mediaite.
Have a tip we should know? tips@mediaite.com