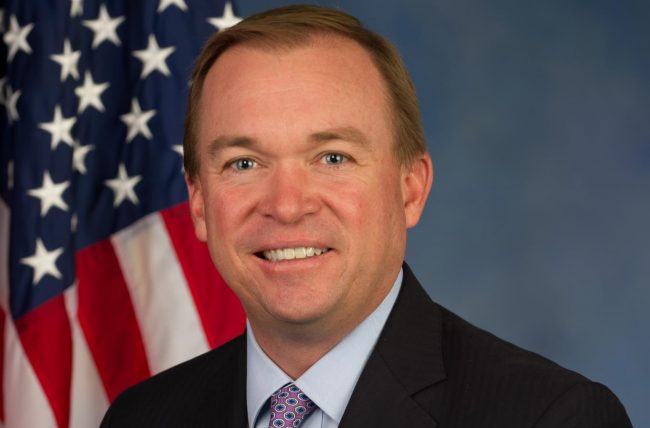 Trump Budget Director Mick Mulvaney says the days of the Congressional Budget Office may have "come and gone." In an interview with the Washington Examiner, the former Freedom Caucus member said that the officially nonpartisan office had been hopelessly corrupted by bias and that the American Health Care Act has been scored by hacks and Obamacare apologists.
"At some point, you've got to ask yourself, has the day of the CBO come and gone?" Mulvaney told the Examiner. "How much power do we give to the CBO under the 1974 Budget Act? We're hearing now that the person in charge of the Affordable Health Care Act methodology is an alum of the Hillarycare program in the 1990s who was brought in by Democrats to score the ACA."
Since its inception in 1974, the CBO has served as a critical tool for both parties to objectively evaluate the cost of legislation. Mulvaney suggested that instead of the CBO, scoring should be left to outside groups, which would result in multiple different scores (and inevitably politicians like Mulvaney cherrypicking the ones they like.)
In the interview, Mulvaney reserved particular ire for the CBO analysis of how many individuals would lose health insurance through Medicaid.
Per the Examiner:
"Did you see the methodology on that 23 million people getting kicked off their health insurance?" he said. "You recognize of course that they assume that people voluntarily get off of Medicaid? That's just not defensible. It's almost as if they went into it and said, 'Okay, we need this score to look bad. How do we do it?'"
While the House of Representatives managed to eek out a health care win, the legislation has been called dead on arrival in the Senate, which is crafting its own bill. The entire debate over the appropriate replacement for Obamacare also finds itself increasingly overshadowed by the Trump-Russia investigation.
[image via screengrab]
Have a tip we should know? tips@mediaite.com