Mindy Meyer's 'State Senate Campaign' Website Explodes On Twitter, Is Truly Awful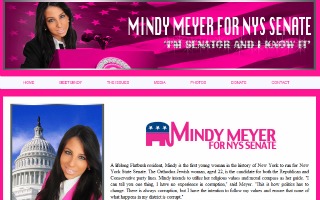 On Monday afternoon, the Twitter-verse came alive after a campaign website by Republican state senate candidate in New York's 21st district went viral. Her site, complete with sparkly letters that let visitors know "I'm senator and I know it" and accented by an unstoppable throbbing house beat (literally, you can't stop it), must be seen to be believed.

Mindy Meyer, who opted to use leopard print to highlight her moniker "diva of the district," describes herself as a life-long resident of Flatbush, Brooklyn.
On the issues, Meyer's has staked out some centrist positions that should further appeal to the Jersey Shore-watching demographic her website has already cornered.
Meyer opposes the policing policy known as "Stop and Frisk," a position that should appeal to centrist Democrats. But, on the issue of school choice, "Mindy will 'vouch for vouchers,'" which could speak to the average conservative voter.
"Mindy intends to crack down on crime," particularly on matters of domestic violence. To combat gang activity, she hopes to "help our young involved in gang related activity by restructuring their lives," and helping them achieve a college degree.
On poverty and unemployment, Mindy has opted to pose as Katniss from The Hunger Games to highlight what she believes are the kill-or-be-killed atmosphere that characterizes New York City's streets. "Mindy believes that summer youth employment programs should be restored to receive the full funding that they had received in the past," her site reads. "Mindy feels that career fairs and unemployment seminars should be more transparent and implemented throughout our district." Good plan.
Rachel Maddow's blog took issue with Meyer's claim to be the "first young woman in the history of New York to run for New York State Senate." A profile of Meyers in YourJewishNews.com describes Meyers as the first Orthodox Jewish woman to run for N.Y. state senate. What is indisputable is that she is the first Orthodox Jewish woman with a Snookie tan to run for New York state Senate. On this, we can all agree.
The 21st District in New York State is currently represented by Kevin S. Parker, a Democrat. He has served as the district's senator since he was elected in 2002 and, despite having some public feuds with New York's popular Democratic Gov. Andrew Cuomo, is unlikely to lose his seat this cycle.
> >Follow Noah Rothman (@Noah_C_Rothman) on Twitter
Have a tip we should know? tips@mediaite.com