Mitch McConnell Delays Health Care Vote After John McCain Underwent Surgery Friday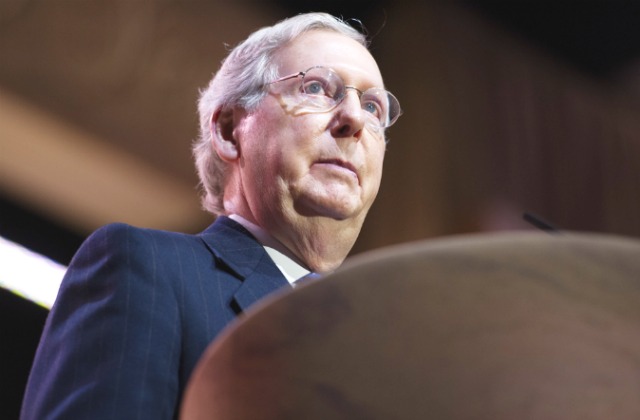 Late Saturday, Senate Majority Leader Mitch McConnell (R-KY) decided to delay all action on the health care bill while Sen. John McCain (R-AZ) recovers from surgery.
McConnell issued this statement:
My statement on @SenJohnMcCain pic.twitter.com/WSqc9axgzm

— Leader McConnell (@SenateMajLdr) July 16, 2017
"While John is recovering, the Senate will continue our work on legislative items and nominations, and will defer consideration of the Better Care Act," McConnell stated.
McCain underwent surgery on Friday in Phoenix to remove a blood clot above his left eye. Doctors advised that the 80-year-old senator remain in Arizona for the next week while he recovers.
"Elaine and I, along with the entire Senate family, wish John the very best and wish him a speedy recovery," McConnell added. "There are few people tougher than my friend John McCain, and I know he'll be back with us soon. Our thoughts are with Cindy and his family, his staff, and the people of Arizona."
This week, Senate Republicans revealed a new draft of the health care bill, and already two Republican senators have come out against it.
With a 52-48 majority, Republicans can only sacrifice two of their own in order to pass the bill along party lines with Vice President Mike Pence serving as the tiebreaker.
President Trump recently put pressure on Senate Republicans to pass a bill via Twitter:
Republicans Senators are working hard to get their failed ObamaCare replacement approved. I will be at my desk, pen in hand!

— Donald J. Trump (@realDonaldTrump) July 14, 2017
After all of these years of suffering thru ObamaCare, Republican Senators must come through as they have promised!

— Donald J. Trump (@realDonaldTrump) July 14, 2017
[image via Christopher Halloran / Shutterstock.com]
Have a tip we should know? tips@mediaite.com