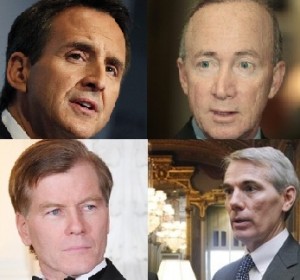 In a Politico item on the Mitt Romney Veepstakes™ yesterday, an unnamed Republican official said that the presumptive Republican nominee's eventual running mate will be an "incredibly boring white guy."
Well, several of those Wonder Bread slices took exception to that notion, reports Buzzfeed's Rebecca Elliott.
Politico's Mike Allen and Jim Vandehei report that the Romney search committee has adopted the political equivalent of the George Costanza rule:
The strategy: Whatever McCain did, do the opposite.

Many of the current strategy discussions are centered on not falling into the traps McCain did: looking wobbly as a leader and weak on the economy in the final weeks of the campaign. The private discussions include ruling out any vice presidential possibilities who could be seen as even remotely risky or unprepared; wrapping the entire campaign around economic issues, knowing this topic alone will swing undecided voters in the final days; and, slowly but steadily, building up Romney as a safe and competent alternative to President Barack Obama.

McCain, according to Romney advisers, blew it on all three scores. And of the three, the most conscious effort by Romney's team to do things differently will be in the vice presidential selection process. One Republican official familiar with the campaign's thinking said it will be designed to produce a pick who is safe and, by design, unexciting — a deliberate anti-Palin. The prized pick, said this official: an "incredibly boring white guy."
I'm not sure who to be offended for, the incredibly boring white guys, or the women, non-white men, and Chris Christies who are being denied the chance to be Mitt Romney's running mate. I'm also not sure about the strategy, if the idea is to go whiter and more boring than Mitt Romney. They'll have to run him with a piece of paper that says "This Page Intentionally Left Blank."
In a great bit of post-Ben Smith synergy, Buzzfeed sought comment from four of Romney's prospective pale riders. Ohio Senator Rob Portman told Rebecca Elliott "I hope that I'm viewed as someone who gets things …" zzzzzzzzzzzzzzzzzzzzzzzzz
Elliott actually published reactions from Portman, Indiana Gov. Mitch Daniels' office, and Virginia Gov. Bob McDonnell's spokesman, but the funniest reaction was this one:
Former Minnesota Governor Tim Pawlenty did not respond to a request for comment.
What's funny about that is that Pawlenty did respond to Elliott, in person, standing on his head, holding two road flares.
Not that he asked, but I still think Romney ought to pick Former Secretary of State Condoleezza Rice. Sec. Rice has been pooh-poohed as a pick (despite polling that shows support for the idea) because of some moderate positions she holds, particularly on abortion rights. Those might make her less-than-palatable for the conservative base, but those people hate President Obama so much, they'd turn out for George Soros if you put an "R" after his name. Sec. Rice would, however, appeal broadly to independents, and maybe even some Democrats, in a way that your average white male VP pick never has.
Have a tip we should know? tips@mediaite.com