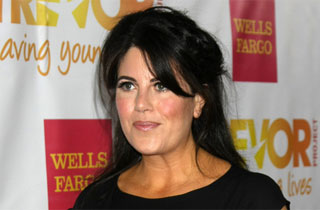 Wait, is Monica Lewinsky about to be a guest on The View? And since Rosie O'Donnell just left the ABC talk show, everyone is wondering: is ABC trying her out as a co-host?
Deadline reports that Lewinsky, who was supposed to appear on The View earlier this year to coincide with her TED talk on bullying, is being invited to appear on the daytime show. And they speculate that the former White House intern may be in the running to eventually be a full-time panelist. Except that her representative Dini Von Mueffling tells Mediaite Monica is not going on the show: "Monica has been invited as guest several times in the past few years, but has not gone on. She is not trying out for a position as a host."
Over at the Daily Mail, an anonymous source claims that Barbara Walters believes Lewinsky is the only thing that can save The View, Clinton access be damned:
Walters says that the former White House intern would be a 'run away success' on The View, a network source tells Daily Mail Online.

She would attract great guests – even if casting her as a regular co-host would make it unlikely that potential 2016 Presidential hopeful Hillary Clinton or President Bill Clinton would ever appear on the show again.

'Barbara believes that Monica, 41, could make The View competitive and compelling and while a lot of Washington's elite may scratch the show off its must-visit press list, the younger demographic of online users would tune in daily to see what she had to say,' added the source.
Except that, of course, Barbara Walters is no longer part of the show.
UPDATE — 04/01/15, 5:31 p.m. ET: We also received the following from a rep of The View:
"After her TED talk we invited Monica to be a guest to talk about her anti-bullying campaign. We'd love to have her on the show."
This story was edited after hearing from her representative
[Deadline]
[Image via Helga Esteb / Shutterstock.com]
—
>> Follow Tina Nguyen (@Tina_Nguyen) on Twitter
Have a tip we should know? tips@mediaite.com