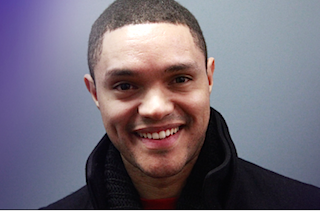 With the announcement that Trevor Noah will take over for Jon Stewart as host of The Daily Show has come an unprecedented level of scrutiny into the 31-year-old South African comedian's prolific Twitter account.
Much of the attention has focused on Noah's tweets about Jews and Israel that some are viewing as anti-Semitic — because apparently you can't make jokes about Israel without earning that label, as even Stewart himself has discovered in the past. The latest uproar helps bring into focus a discussion Noah had on the Daily Show's podcast earlier this year, in which he used a childhood friend who happens to be named "Hitler" as a way of emphasizing how different his perspective really is.
Noah was talking about how South Africans view America — and admitting, "I know nothing about your politics, really" — when he stopped to tell a story about a conversation he had with Daily Show writer Dan Amira in which he casually mentioned "my friend Hitler."
This rightly took Amira aback, who asked him, "What do you mean your 'friend Hitler?'"
Noah said he typically avoids telling people he's just met about this particularly friend but he had let it slip, to a Jewish comedy writer, no less. "This is not a nickname. We don't call him, 'AKA Hitler,'" Noah explained. "His name is Hitler." He described Hitler as a "very good-looking, young black man, charismatic" with a "great smile."
"Why on earth would a mother name her child Hitler?" Amira asked him. "What kind of mother would do that?"
"Well, Hitler's mom did it," Noah explained, saying she didn't see Adolf Hitler the same way the rest of the world sees him. He said he "never questioned" the name growing up and just took it at face value. It wasn't until he traveled outside of South Africa that he realized how it could be perceived.
"In many parts of Africa… people would name their children after great leaders," Noah said, stressing that "great" does not mean "good," but rather someone who "really changed the world."
"Hitler was so big that he forced white South Africans, who at the time were racist, to ask black South Africans to go to war with them to help fight," he said. As a black man, he said he would ask, "Who is it that scares the man who oppresses me? Who's that dude? Because that's the guy I want to meet."
In comedy, Noah said, "perspective is everything," a sentiment that means much more this week than it did when he said it in January. While many in the world view Adolf Hitler as "the pinnacle of evil," there are other places in the world where he is "just one of the historical figures."
"It's perspective," Noah said. "It's such a delicate thing that we have to deal with in comedy and everything."
Chances are, hearing this explanation for why it doesn't bother him to have a friend named Hitler will not satisfy those who already think Trevor Noah is anti-Semitic. But this conversation does help illuminate why the "perspective" displayed in his Twitter feed has been so jarring for so many.
Listen to audio below, via Comedy Central:
You can hear the full podcast episode at cc.com.
[Photo via Comedy Central]
— —
>> Follow Matt Wilstein (@TheMattWilstein) on Twitter
Have a tip we should know? tips@mediaite.com