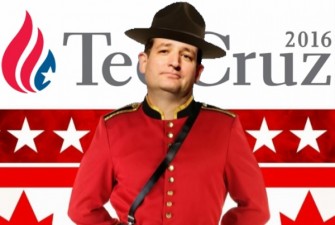 Donald Trump famously asked "How stupid are the people of Iowa?" It appears we have our answer, if the newest survey of Iowa voters by Democratic-leaning but deadly accurate Public Policy Polling is to be believed. According to their latest Iowa poll, almost half of the state's Republican voters are still unaware that presidential candidate and God-Murdering Cuban Heathen Senator Ted Cruz (R-TX) was born in Canada. Not only that, there are more Iowa Republicans who incorrectly believe that Cruz was born in the United States than correctly believe that President Obama was born in the U.S.
With the race in Iowa tightening in Trump's favor this week, there's even more bad news for Cruz:
Despite all the attention to this issue in the last week, still only 46% of Iowa Republicans are aware that Cruz was not born in the United States. In fact, there are more GOP voters in the state who think Cruz (34%) was born in the United States than think Barack Obama (28%) was. Donald Trump knows what he's doing when he repeatedly brings up this issue- 36% of Cruz voters aren't aware yet that he wasn't born in the United States, and 24% of Cruz voters say someone born outside the country shouldn't be allowed to be President.
That means that a quarter of Cruz's current support could evaporate if Donald Trump can somehow get the message out to them that Ted Cruz was born in Canada.
The results for Obama's correct birthplace are slightly below where other polls on the matter have been, while the 34% who think Cruz was born in the U.S. is six points lower than it was in a national poll taken in September.
Have a tip we should know? tips@mediaite.com