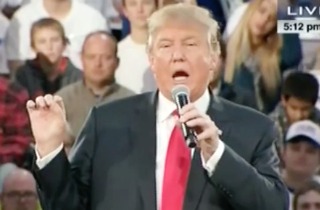 If you are a practicing Muslim who lives in Brooklyn, loves stand-up comedy and hates Donald Trump, then you're in for a treat.
The Brooklyn Paper reports that the Experiment Comedy Gallery, located in the Williamsburg neighborhood of Brooklyn, hopes to lampoon the Republican presidential candidate's proposed Muslim ban, which involves U.S. Customs agents asking potential immigrants whether or not they're Muslim.
"It's going to be as vague as Donald Trump is going to make it," club owner Mo Fathelbab told the Brooklyn Paper.
So how will Experiment Comedy Gallery verify that attendees seeking free entry are actually Muslim? By asking all comers to face the holy city of Mecca and recite the opening of the Qu'ran from memory. As the Brooklyn Paper notes, not even Fathelbab is sure he can do it.
"We're just as Muslim as Shaquille O'Neill and Ice Cube."
In a followup interview with Death and Taxes, Fathelbab said that he and a non-Muslim friend came up with the idea because they "were both pissed off at the anti-Islamic rhetoric coming out of Donald Trump's as well as most of the Republican candidates' mouths. At first, this was a spoof of Trump's answer of how the TSA would profile Muslims trying to enter this country. Then, it became our business model."
"No one is really calling any of them out on it," he said regarding the media's general complacency with Trump's repeated comments on Muslims. "As a comedy person, it's kind of up to us call all of that out for what it is, unfortunately, before it's too late."
[h/t Death and Taxes, Brooklyn Paper]
[Image via screengrab]
— —
>> Follow Andrew Husband (@AndrewHusband) on Twitter
Have a tip we should know? tips@mediaite.com