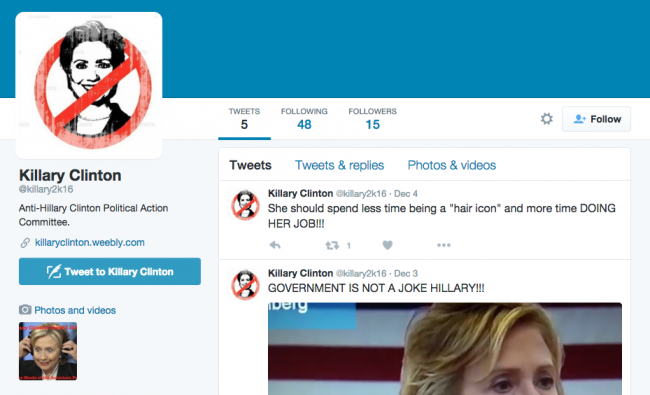 A high school civics lesson earned three Ohio honor-roll students a summons to the principal's office — and a visit from the Department of Homeland Security — after they created a Political Action Committee named "Killary Clinton."
The students said they took interest in the seemingly simple process of filing for a PAC, noting one of their classmates set up a pro-Marco Rubio Super PAC to raise funds for the Republican candidate. Because they're not exactly fans of Hillary Clinton, the students chose to give their PAC a less-than-PC designation for the former Secretary of State.
"We just did it for the heck of it," one of the PAC's creators told Cleveland.com. "We thought it was cool so we all talked about it." But the students' attempt at political engagement raised red flags with authorities:
"Killary" sounded funny, but it has a menacing ring to it. It is also a name that some critics use for Clinton, the former first lady and secretary of state.

Some Clinton critics have established "Killary" Facebook and Instagram pages with graphic images and vulgar language. Another PAC was set up in Las Vegas called "It's about Killary," although the founder told the FEC in a filing that "Killary is a fictional character."
The Department of Homeland Security and the high school principal apparently met with the students to determine if their intentions were malicious. For now, they seem to have avoided any real consequences — although having federal agents pay a visit to your parent's house isn't exactly getting off scot-free.
In an email, one student told Koff, "We all try to be good students and this is not reflecting positively on us, so I hope you can understand."
[Image via screengrab]
—
>> Follow Elizabeth Preza on Twitter (@lizacisms)
Have a tip we should know? tips@mediaite.com