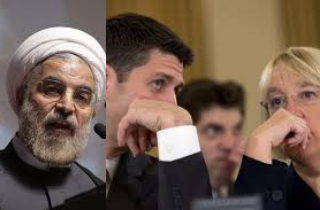 Every a.m., Mediaite publishes a primer of what the interweb machine is writing, talking, tweeting, and blogging about, so that you may fool friends and family into thinking you are a trove of information and insight. Today: domestic maneuvering over the Iranian nuclear deal, a new omnibus spending bill, decoding the Supreme Court's move yesterday on abortion, and more.

"Iran Deal Progress Dampens Push for New U.S. Sanctions Bill" (Patricia Zengerle and Timothy Gardner, Reuters)
The push in Congress to toughen sanctions on Iran has slowed now that the interim nuclear deal has an official start date. Lawmakers, who before the holiday break had been loudly objecting to the deal, are cooling their jets—for now. Obama has threatened to veto any bill tightening sanctions, as it could squash the precarious deal negotiated with the Iranians.
All this, of course, was before Hassan Rouhani's morning tweet.
"Another Step Toward Nuclear Sanity in Iran" (Editorial Board, New York Times)
Meanwhile, the New York Times ed board singles out Senators Robert Menendez (D-NJ) and Mark Kirk (R-IL), the forces behind the sanctions bill, and tells them to knock it off. "This would be the most significant restraint ever on a program that has threatened international stability since it was first disclosed in 2002 and an undeniably important step toward the peaceful resolution of a serious dispute," the board writes. "Even so, dangerously misguided forces, including leading Democrats and Republicans in Congress, are working to sabotage it."
"Lawmakers Unveil Massive $1.1 trillion Spending Bill in Bipartisan Compromise" (Lori Montgomery and Ed O'Keefe, Washington Post)
Congress reached a negotiated spending bill that would roll back large parts of the sequester, avoid looming cuts to the Pentagon, fund the government through the remainder of the fiscal year, and add additional funding to programs like early-childhood education. If you're looking for "winners" and "losers," Republicans are crowing that this is the lowest appropriations bill since the Bush years, while Democrats note that a still lagging economy needed more investment. But everybody seems happy to avoid another shutdown showdown, so there's that.
"Spending Bill Rolls Back Funding for Controversial ObamaCare Programs" (Jonathan Easley, The Hill)
Hiding in the spending bill: a slew of cuts for Obamacare programs, part of the GOP's death-by-thousand-cuts tactics for undermining the ACA. The spending bill cuts $1 billion for Prevention and Public Health fund, and $10 million from the Independent Payment Advisory Board, better known, thanks to Sarah Palin, as the Death Panel.
"Supreme Court Rejects 20-Week Abortion Ban — For Now" (Robin Marty, Talking Points Memo)
Robin Marty gets into the details of the Supreme Court's refusal to hear a case over Arizona's ban on abortions after 20 weeks, which effectively rendered the law null, but has questionable bearing on similar laws across the country. This is the strange trench in which laws are written specifically to appeal to the Delphic oracle that is Justice Anthony Kennedy, and where the battles are fought over the tiniest increments of language:
However, by refusing to hear the case the Supreme Court isn't responding to all 20-week bans as a whole. Instead, they rejected the idea that abortion should be banned at 20 weeks gestation to stop pregnant people from undergoing "dangerous" procedures. Still unknown is whether the court would be more receptive to a pre-viability ban in a different package, such as the one National Right to Life Committee has tried so hard to offer them in the 20-week bans passed in Nebraska, Idaho, Georgia and a handful of other states…
Read the whole etc.
[Image via screengrab]
——
>> Follow Evan McMurry (@evanmcmurry) on Twitter
Have a tip we should know? tips@mediaite.com