Nancy Pelosi on Food Stamps: Can't Pray on Sunday and 'Prey on Other People During the Week'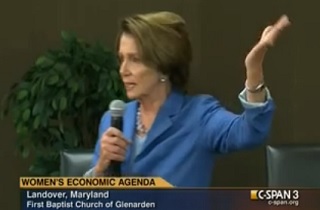 Former Speaker of the House and current House Minority Leader Nancy Pelosi (D-CA) delivered a gut punch to Republicans in Congress eager to cut food stamp benefits, even as $5 billion in automatic cuts take effect this month. Speaking at the Women's Economic Agenda late last month, Leader Pelosi related a portion of a Catholic sermon to the debate over food stamps, and also to the Affordable Care Act.
Provisions of the 2009 stimulus law that raised caps for food stamps have just expired, even as Congress debates a Senate bill that cuts $4.2 billion from food stamps over the next ten years, and a House bill that cuts $39 billion. At the Women's Economic Agenda in October, Leader Pelosi wrapped up her remarks with a stinging anecdote about a Catholic sermon she'd heard while visiting her daughter in Texas.
"He said 'What I want you to take from today is that it's just… it's not all right for you to come here and pray on Sunday, and leave here, and prey on other people during the week,'" Pelosi related, "So I thought, wow, he should come to our debates on food stamps and the rest of that."
"There's a debate going on that we want women fully engaged in," Leader Pelosi added, "to bring their intellectual and public service experience to, but also to give hope to so many women who are in this struggle, trying to raise their families, or have their own… reach their own aspirations. It goes back again, I always go back to founders, this is about the Affordable Care Act, too, healthy life, liberty, to pursue your happiness in a way that's good for you, but good for America."
"When women succeed, America succeeds," Pelosi concluded.
Here's the clip, from C-SPAN 3:
Have a tip we should know? tips@mediaite.com