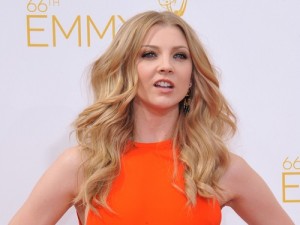 Despite there being quite some time before the first episodes of Game of Thrones's sixth season air on HBO, the "Is this too rapey?" hot takes continue. Interestingly, the latest comes from GoT star Natalie Dormer.
According to the Guardian, Dormer told the Radio Times that the show's male actors are objectified just as much as the women are:
"My personal experience has been to work on phenomenal jobs in which the men are objectified as much as the women," she said.

"Actors suffer from it, too," Dormer added.
"It's a visual medium," she concluded, "so to a certain extent you get judged on the way you look."
The 33-year-old actress made similar comments in an extended interview with the Telegraph on Sunday, when GoT's seemingly gratuitous use of sex and violence came up in conversation:
"I think sex and romance is a huge part of human motivation," she says, shrugging. "So long as it's informing the story then I don't see what the problem is. Obviously no one likes gratuitous sex or gratuitous misogyny, the same way people shouldn't like gratuitous violence.

"But I think Thrones is quite good in that way. The violence is quite naturalistic. It's not hyper-stylised. It's not glamorised. And the sex is quite real and dirty as well. It's about those raw, visceral qualities of human life that make good drama."
Despite Dormer's insistence on "informing the story," her comments are sure to irritate the Internet's raging hornets nest of post-fifth season GoT haters who weren't too big on its use of rape and shame against female characters.
Let's see what Senator Claire McCaskill (D-MO) has to say about this recent revelation.
[h/t the Guardian, the Telegraph]
[Image via Shutterstock.com]
— —
>> Follow Andrew Husband (@AndrewHusband) on Twitter
Have a tip we should know? tips@mediaite.com